MEN'S SOCCER COACHING STAFF
Head Coach: Ben Kososkie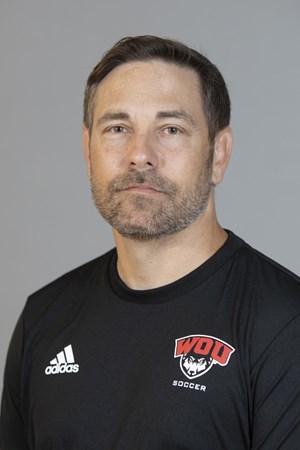 Email: benjamin.kososkie@edmonds.edu
March 8, 2022
LYNNWOOD – Ben Kososkie has been named as Edmonds College's new men's soccer head coach.
Kososkie most recently served as an assistant with the women's program at Willamette University, a NCAA DIII in Salem, Ore., for the 2021-22 season. He is currently the Director of Coaching for Oregon Odyssey Soccer Club which is based in Salem. In addition to his director role he is also the head coach of the 04 girls "Phoenix" team which is currently ranked No. 2 in Oregon.
Prior to Willamette, he coached at Western Oregon University (NCAA DII) in Monmouth, Ore. from 2019-2020 where he helped the women's program reach the GNAC semi-finals for the first time in school history.
Early in his career Kososkie spent time coaching with Ft. Lowell Soccer Club, RockStar United, and was the general manager of the Tucson Tiburons of the MPSL. In 2015 Kososkie took over as the Director of Coaching and Operations for Sereno Soccer Club in Tucson, Ariz.
From 2016-2018 he served as the head coach for both the men's and women's soccer programs at Hawkeye Community College, an NJCAA school in Waterloo, Iowa. Kososkie was responsible for all facets of the program. He elevated the women's program from a 2-13 record in the 2016-2017 season to a 8-7-1 mark in the next year as the team advanced to regionals. In his two seasons with the men, they tallied a 20-18-1 record. In all, Kososkie coached 10 All-Region selections, over 20 All-Academic award winners, and one All-American nominee.
Kososkie's playing career included stops with the Arizona Sahuaros and Tucson Fireballs of the USL after time at Phoenix College and Pima College in Arizona.
"I'm incredibly excited to get the ball rolling at Edmonds. The educational opportunities here along with the amazing campus, athletic facilities, and residence halls are a dream come true for prospective student-athletes," said Kososkie. "I want to thank Spencer Stark, Scott Kelly, and the rest of the hiring committee for putting their trust in me to rebuild the men's soccer program. It's evident to me that athletics has a positive and supportive culture here at Edmonds, and I'm grateful to become a part of the team."
Kososkie received his bachelor and master degrees from California University of Pennsylvania, earning his bachelor of science in sport management, and his master of science in intercollegiate athletic administration. He holds several coaching licenses, which include a USC Premier Diploma and USSF C License. He plans to transition up to the South Snohomish County area for the fall season, which officially begins on August 1.
Kososkie can be reached by email at benjamin.kososkie@edmonds.edu and by cell phone at 520-349-3985.
---
Assistant Coaches: Deryk Kososkie and Michael Ochoa
TOP