WOMEN'S SOCCER coaching staff
Head Coach: Darrel Marcelle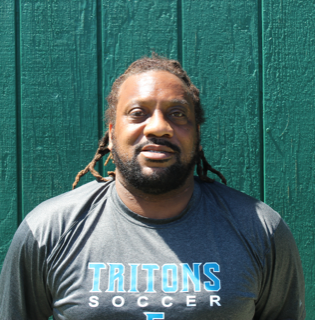 Email: darrel.marcelle@edmonds.edu
January 14, 2022
LYNNWOOD – Darrel Marcelle has been selected as the next head coach of the Edmonds College women's soccer program.
Marcelle has an extensive soccer coaching background. He was a member of the Trinidad and Tobago national team after playing and graduating from NCAA DI Howard University where he received a Bachelor in Science degree. He holds his USSF "A" License, is certified by the Italian Football Federation, and is the founder and technical director for the BVB International Academy – Washington, where he oversees all club operations.
Marcelle accepted more responsibility than he signed up for since joining Edmonds soccer nearly eight months ago. He anchored the women's soccer team at the end of the shortened COVID spring season in 2021 and served as the associate head coach for the men's and women's program in the fall of 2021. In short, he's been the glue for Triton soccer.
"Darrel has worked in a challenging environment with us. We've found him to be organized, intentional, and consistent. His commitment to our student-athletes is obvious," said athletic director Spencer Stark.
"We opened up this position, and although Darrel was an internal candidate, the committee approached his application and interview as if he came from outside our athletics staff. The hiring committee fully believes Darrel has earned this opportunity. We look forward to supporting him as he puts his mark on our women's soccer program."
Marcelle has coached at Empoli FC in the Italian Serie A League, been an assistant at Mount St. Mary's University (NCAA DII), and was the National Team coach for Trinidad and Tobago's women's team, serving on the staff for the U17 and U20 senior women's squads (2019-2021). In 2014 Marcelle founded FC Bellevue and was the Director of Football Operations until 2019. From 2012-2014 he was the Director of Coaching for Newport Youth Soccer Club. He has also coached and directed at Fuerza FC in Everett, ID2 PSPL Academy, Issaquah Soccer Club, and various organizations in Virginia and Maryland. Marcelle has multiple NSCAA (National Soccer Coaches Association of America) diplomas, including an advanced regional diploma and one in goalkeeping. He is a member of the NSCAA and BSCAA (Black Soccer Coaches Association of America).
"It's an honor and privilege to be given the opportunity to coach at Edmonds College. I am excited and believe I can create a competitive, fun learning environment for all players," Marcelle said. "With dedication and hard work our program will be successful."
Coach Marcelle can be reached at darrel.marcelle@edmonds.edu or 425.492.0484.
TOP