International Assistant and leader Programs
The IA and IL Programs are Back!

Winter Application Opens Nov. 15.
International Assistant and Leader Program Dates:
Application Opens: Nov. 15
Application Deadline: Nov. 28
Interviews: Dec. 6 and 7
Training: Dec. 17
Orientation Date: Dec. 30
To apply for the International Leader (IL) Program, please email oip_programming@edmonds.edu
---
What is the International Assistant (IA) Program?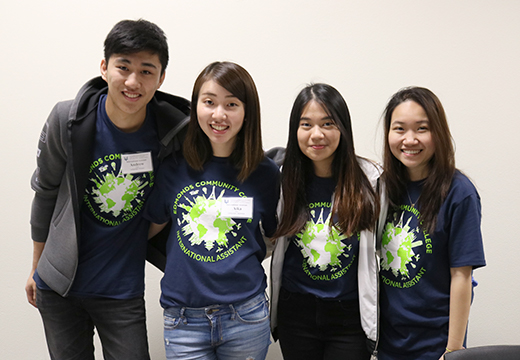 The International Assistant (IA) Program is a volunteer opportunity for students of Edmonds College to help new international students during Welcome Orientation Week. It is a great chance for you to gain cultural awareness, make new friends, and gain hands-on leadership experience.
We are proud to say that our International Assistants and International Leaders often go on to become student leaders throughout the campus.
What is the International Leader (IL) Program?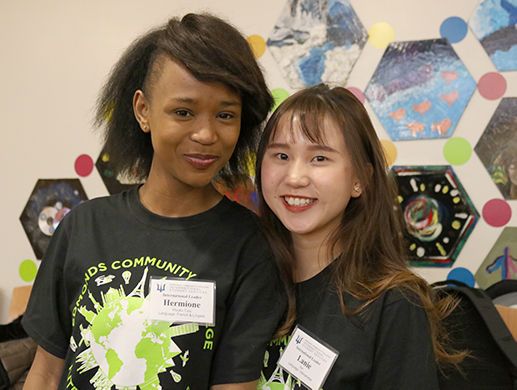 The International Leader (IL) Program is a great way for students who were previously selected and participated in the IA program to gain a higher level of volunteer experience. The IL application process is similar to the American-style job application and is more rigorous than the IA application, but is a priceless experience to use for future job opportunities on and off campus.
Before the IA training, ILs will attend an orientation with the OIP Programming staff to discuss their role during the new student orientation and IA training, take a photo to be shown in the orientation handbook, and be introduced to the OIP office. Throughout training and orientation, ILs will lead a group of IAs through their tasks and be the first line of communication with the IAs. ILs will also be expected to work with the OIP Programming team to help navigate the different challenges that occur during orientation.
Things to Know Before You Apply:
After the program each International Assistant and International Leader will receive a certificate, volunteer hours, and demonstrated leadership experience to enhance their resume and help prepare students for future opportunities on campus and in the community. The IA program includes a 1 day training, 1-3 days of orientation and a post-orientation celebration. The IL program includes 1 pre-training orientation, assist in IA training, 1-3 days of orientation and a post-orientation celebration.
Every IA and IL is required to participate in all components of their program.
Participation in the training and during the new student orientation is mandatory. There is no option for a makeup training.
IAs will be given training and detailed instructions on their responsibilities by the ILs and OIP staff
While IAs and ILs often work with others from their home country, all participants are expected to be friendly and helpful to every international student disregarding their origin, age, sex, religion, cultural background etc.
Not following these rules and others announced during the IA training will result in disciplinary actions including being dropped from the program.
---
Frequently Asked Questions
When can I apply?
The applications usually open in the middle of each quarter for the upcoming orientation. The OIP Programming team will send an email to all international students' email announcing the application opening. The IL and IA applications may have different deadlines. Please come to OIP Office in Snohomish Hall, Room 301 for more information about the program or call the OIP Programming Team at 425.640.1399.
What happens after I apply?
After you submit the application form, OIP staff reviews all of the applications after the program deadline. Late applications are not reviewed by OIP staff. Please be thoughtful about your answers if you would like to be selected for an interview. Also be aware that the application questions change each quarter.
After discussing the content of your application, we will send you an email if you will be invited to an interview or not. If accepted, IA applicants will participate in group interviews and IL applicants will participate in individual interviews. Please come on time and dressed appropriately for your interview. We take note if you are late, and may not accept you into the interview at all if you are over 5 minutes late. A good candidate plans ahead.
Am I guaranteed acceptance into the program?
The IA and IL programs are very competitive programs. Unfortunately, it is impossible for us to select all students who apply due to the large number of applicants. If you don't get selected when you apply, you will be encouraged to apply again next quarter. We consider how many times a candidate has applied and interviewed when making our selections.
Do I need any kind of experience before I apply for the IA or IL program?
No prior experience is required for the IA program. This program is designed to be a first step to gain experience for those who would like to be involved on campus. It is also a great way for you to gain leadership experience for your resume and have fun while doing so.
To apply to the IL program, you MUST have been selected, and have participated for the entirety of the orientation. If you were dropped from the IA program you are not eligible to apply to the IL program. If you missed a day of orientation due to a family emergency or sickness while you were an IA you are eligible to apply.
If I am selected, how do I know what I am supposed to do during orientation week?
Before each orientation, OIP will provide training for the IAs where the whole orientation process will be explained in detail. Also, ILs and the OIP staff will help instruct you during your volunteer time.
If I have been an IA or IL before, can I apply again?
If you have been an IA before, we encourage you to apply to the IL program to build on your leadership experience and make room for new students to experience the IA program, but if you would like to try the IA program again, please contact the OIP Programming Team and let us know.
If you have been an IL before, we encourage you to apply again. As with the IA program, we would like to let as many student as possible have the opportunity, but our applicant pool is much smaller than for IA, so please apply again if you are interested!
---
For questions or concerns, please email OIP Programming at oip_programming@edmonds.edu or call us at 425.640.1399.
TOP