Gov. Inslee meets with Edmonds CC engineering, STEM students and alumni
04/05/19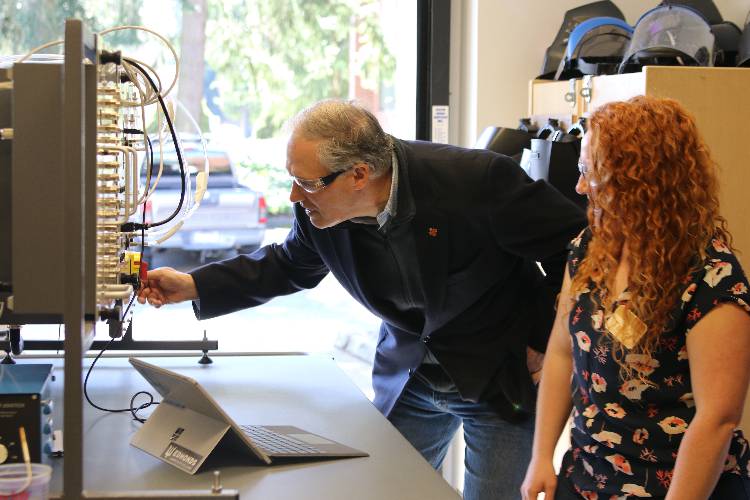 Edmonds CC STEM student Taylor Monroe shows Gov. Inslee how the college's wind tunnel works. Researchers use the tunnels to mimic the actions of an object in flight and to learn more about how aircraft will fly.
Washington state is a leader in innovation and technology within business and manufacturing and has an economy that's driven by a highly-skilled workforce. However, the region is facing a shortage of workers who are trained for today's jobs in STEM, or Science, Technology, Engineering, and Math.

Washington state Gov. Jay Inslee recently visited Edmonds Community College to meet with students, alumni, and faculty of the college's Engineering and Engineering Technology programs to gain insight into how two-year degree programs are meeting workforce demands.

"To ensure our young people have the skills they need –– and our businesses and industries have an adequate pool of talent –– we must invest in creating a career-connected learning system that provides opportunities for all students," Inslee stated in his 2019-21 budget and policy highlights.

Last year, Inslee launched the Career Connect Washington initiative, a public-private partnership with the five-year goal of connecting 100,000 young people with employer internships, registered apprenticeships, and other learning opportunities.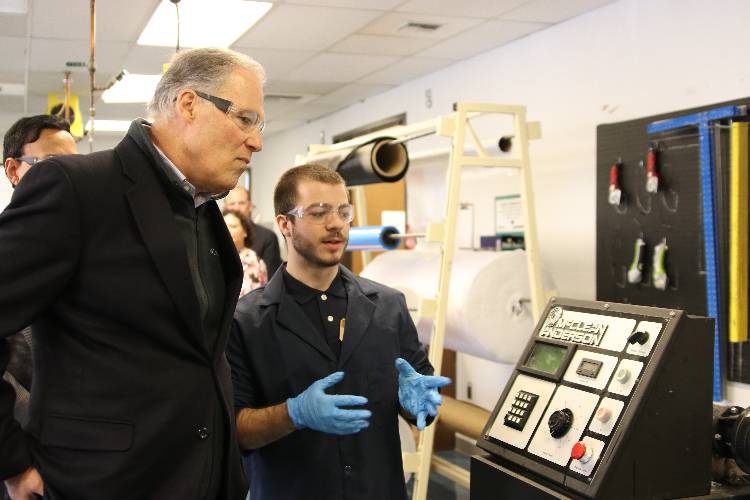 Edmonds CC alumnus and current UW student Zachary Hollcraft demonstrates how to use a filament winder.
During his March 22 visit, Inslee toured the college's Materials Science Technology lab, an 11,000-square-foot building that houses more than $1 million in state-of-the-art, high-end technical equipment used in the production of composites, and aerospace and consumer products.

"Edmonds CC has this really expensive, high-tech filament winder, so we were really grateful to be able to come here and use this," said Edmonds CC alumnus Zachary Hollcraft.

He demonstrated to Inslee how the control panel of the winder works. Hollcraft is currently pursuing an engineering degree at the University of Washington and conducting research that requires the use of a filament winder – a machine that isn't available at UW.

The filament winder is used to wind carbon (or other) fiber around an object in a prescribed pattern. Edmonds CC rocketry students are also interested in using it to explore ways to reinforce their rockets.

Edmonds CC alumna Savannah Hoover told Inslee about how she graduated in March and is already working in the field as an engineering technician at Microsurgical Technologies, a medical device company that uses composites.

"I completed my program of study in a year and a half and earned an associate's degree in Manufacturing and Materials Science Technology," Hoover said.

The technology lab also houses The Facility Makerspace and its Rapid Proto Lab equipped with laser cutters, 3D printers, 3D scanners, and a CNC router. It is open to the public.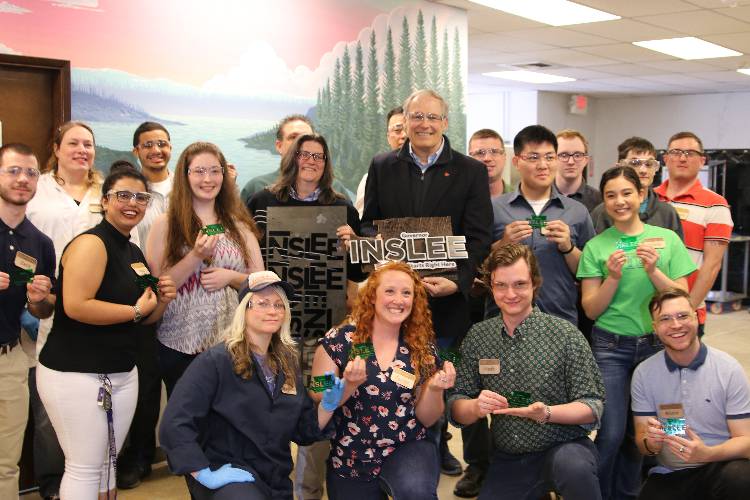 Edmonds CC students present Gov. Inslee with a laser-cut souvenir that was designed and made in the college's Rapid Proto Lab.
Students presented Gov. Inslee with a laser-cut souvenir that was designed and made in the Rapid Proto Lab. Inslee also met with students in the college's rocketry club and got a close-up look at the college's wind tunnel.

The wind tunnel was purchased with funds from a Washington state allocation – 1,000 FTEs (full-time equivalent students) for aerospace – that gives extra funding to colleges to help expand enrollment in two specific programs that lead to aerospace careers: Pre-Engineering and Engineering Technology – Materials Science.

For more information on Edmonds CC's Engineering and Engineering Technology programs, go to edcc.edu/etec.
Media Contact Info
Laura Daniali
425.640.1513
laura.daniali@edcc.edu