Edmonds College awarded grant for new AI lab through new AI Incubator Network 
07/12/22
Today, Edmonds College was awarded a $40,000 grant from the American Association of Community Colleges (AACC), Dell Technologies and Intel, as part of the Artificial Intelligence (AI) Incubator Network Initiative. The attributed funds will go towards building an AI incubator for greater access to AI computing power, tools and resources, aiming to foster the skills needed for future jobs. A total of 15 colleges were selected based on criteria determined by AACC, Dell Technologies and Intel. Edmonds College is the only college in the state of Washington to be accepted and funded by the Incubator Initiative. In addition, the Washington State Board for Community and Technical Colleges awarded Edmonds College another $36,000 to fund this program.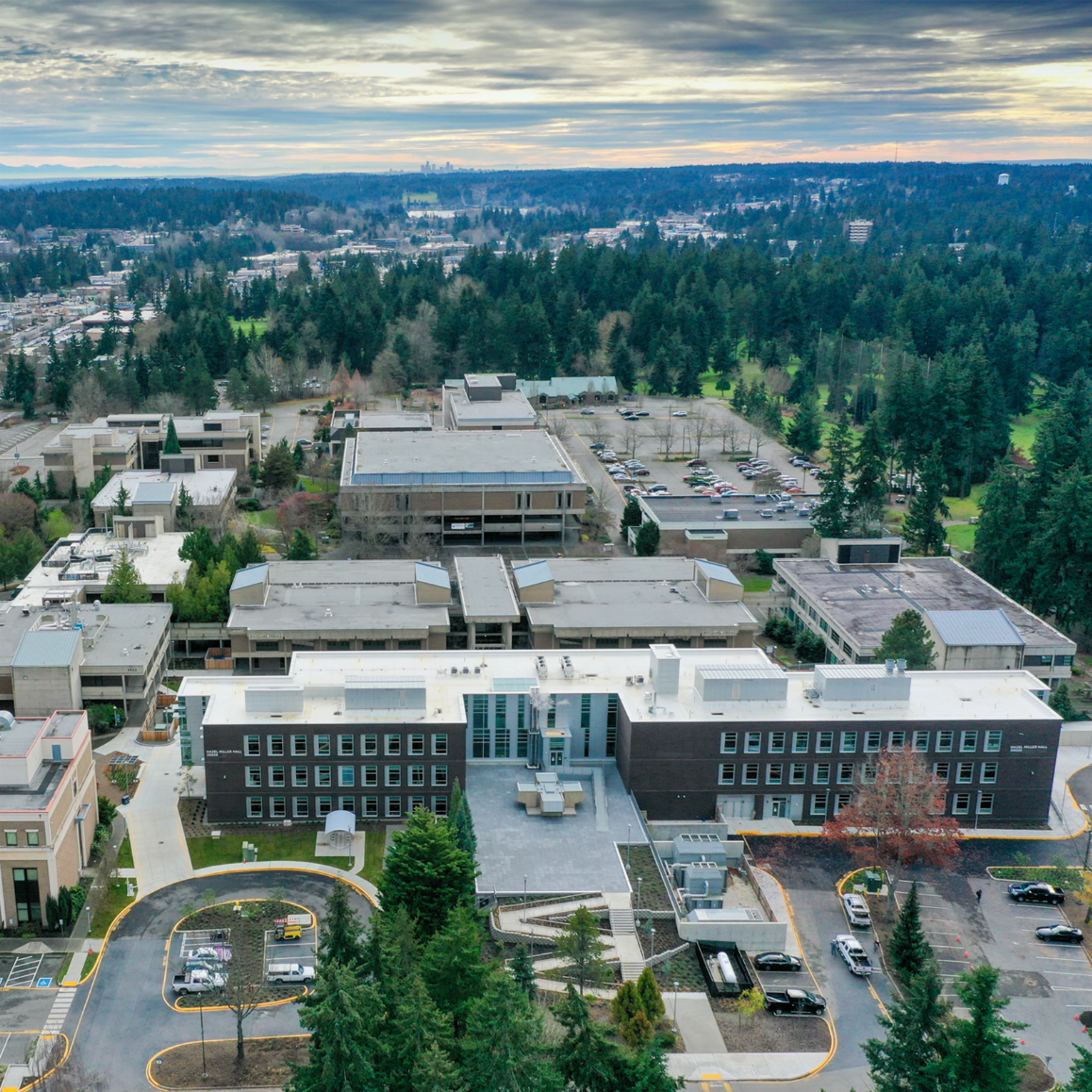 Edmonds College is one of two colleges on the West Coast to receive an AI Incubator Network grant. (photo by Arutyun Sargsyan)
Dr. Amit B. Singh, President, Edmonds College states, "This is an exciting opportunity for our college to build a curriculum that will give our students the tools and resources they need to build AI-focused careers. I want to thank Dell and Intel for this incredible honor and opportunity for our students. Edmonds College is leaning into the future."

Dr. Carey Schroyer, Dean, STEM at Edmonds College adds, "Our students often talk about AI and now we have the opportunity to build a curriculum that will launch their careers. We're so ready and excited to get started."
In January 2022, AACC, Dell Technologies and Intel announced a joint commitment to grow Intel's AI for Workforce Program from 18 states to 50 by 2023. In addition to receiving the grant, Edmonds College has also joined the AI Incubator Network to connect with community colleges across the nation on strategic economic development opportunities, participate in discussions about learning pathways, strategize on student engagement in AI programs, and gather best practices from each other and industry leaders.
Walter G. Bumphus, Ph.D., President and CEO, AACC states, "AI has become an increasingly important focus for community colleges as providers of workforce education for multiple industries. Working together with peers and across sectors will enhance the ability of our colleges to advance and scale this curriculum across the nation to ensure that students earn the skills needed to fill these jobs and begin meaningful careers."

Adrienne Garber, Senior Strategist, Higher Education, Dell Technologies adds, "Congratulations to grant-winner Edmonds College, we are very proud of their involvement in the AI Incubator Network program with Dell, Intel and AACC and we look forward to their continued contributions. Dell Technologies is committed to transforming 1 billion lives by 2030. By providing learning content for in-demand technology skills and creating artificial intelligence labs for teaching and learning at community and technical colleges across the U.S., we are moving closer to achieving that goal. With collaborators like Edmonds, we are creating opportunities for underrepresented populations in artificial intelligence, machine learning, data analytics and the like to enter careers and fill job openings in much-needed technology fields."

Carlos Contreras, Senior Director of AI and Digital Readiness at Intel adds, "Today's students will enter a technology workforce where every organization will focus in some capacity on applying AI to solving problems and creating value for organizations. Intel is excited to partner with the AACC and Dell Technologies to democratize AI technology and enable students to enter that workforce with AI experience."
Students from all backgrounds are encouraged to participate in our related curriculum and new AI lab once completed. There is no prior tech or coding knowledge needed, only foundational math skills. We look forward to empowering the next generation with the necessary AI skills for careers in the digital economy.
Edmonds College | edmonds.edu
Edmonds College is a public college accredited by the Northwest Commission on Colleges and Universities and governed by the Washington State Board of Community and Technical Colleges. The college's mission is: Teaching I Learning I Community. The college serves approximately 14,000 students annually, including approximately 900 international students from about 60 countries. The college currently offers two bachelor of applied science degrees, (with approval to offer four more) 65 associate degrees and 107 professional certificates in 30 programs of study. Edmonds College offers robust athletics programs for men and women including baseball, softball, basketball, volleyball, soccer, and cross-country. The college operates two on-campus residence halls housing approximately 400 students. In addition, the college has a wide range of comprehensive offerings: College credit in high school, basic education skills to receive a high school diploma/GED or to prepare for college, short-term non-credit training, continuing education, online degrees and certificates, offered day, night, and weekend. Support services include childcare, a campus food pantry, 211 navigator, and mental health resources. The school operates on a quarter system. The average age of students is 30.
About AACC
As the voice of the nation's community colleges, the American Association of Community Colleges (AACC), delivers educational and economic opportunity for more than 10 million diverse students in search of the American Dream. Uniquely dedicated to access and success for all students, AACC's member colleges provide an on-ramp to degree attainment, skilled careers, and family-supporting wages. Located in Washington, D.C., AACC advocates for these not-for-profit, public-serving institutions to ensure they have the resources and support they need to deliver on the mission of increasing economic mobility for all. https://www.aacc.nche.edu/

About Intel
Intel (Nasdaq: INTC) is an industry leader, creating world-changing technology that enables global progress and enriches lives. Inspired by Moore's Law, we continuously work to advance the design and manufacturing of semiconductors to help address our customers' greatest challenges. By embedding intelligence in the cloud, network, edge and every kind of computing device, we unleash the potential of data to transform business and society for the better. To learn more about Intel's innovations, go to newsroom.intel.com and intel.com.
© Intel Corporation. Intel, the Intel logo and other Intel marks are trademarks of Intel Corporation or its subsidiaries.
Media Contact Info
Brian Tom
425-478-0938
brian.tom@edmonds.edu