College parenting education programs honored
03/31/2009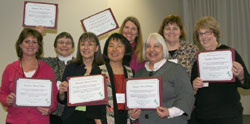 Front: Barb Kluge, Olympic College; Barbara Yasui, Shoreline CC; Gail Davenport, Edmonds CC; Julie Soto, Bellevue College. Back: Val Donato, North Seattle CC; Christine Smith, Whatcom CC; Linda Crawford Bellingham Technical, Carol Gulczynski, Bates Technical.
Edmonds College hosted the 15th annual Northwest Parent and Family Education Conference in March, where 26 state community and technical college programs offering parenting education classes picked up Awards of Excellence.
The 2008-09 school year marks the 70th anniversary of Parenting Education in Washington state. The Organization of Parent Education Programs (OPEP) continues to promote and support professional development for college parenting education instructors and program coordinators.
Edmonds College joined the state of Washington in celebrating the 70th anniversary of parenting education in 2008-09. The college has five parent cooperative preschools and a parent education program offering classes parents can take with their infants and toddlers.
Gov. Chris Gregoire declared Oct. 23 Parenting Education Day, and OPEP held a celebration to commemorate the anniversary at Clover Park Technical College in Lakewood.
In 1938, a group of women formed the first parent cooperative preschool in Seattle. Seventy years later, that effort has grown into a network of more than 170 parent cooperative preschools and parent education programs affiliated with 26 community and technical colleges throughout the state. Together, these programs assist more than 14,000 families in Washington each year.
Edmonds CC has five cooperative preschools serving two to five year olds and their families in Edmonds, Mill Creek, Mountlake Terrace, west Edmonds, and at the Center for Families on campus in Lynnwood. It also has a Childcare Providers Preschool Cooperative for licensed family-home childcare providers and the children under their care (infants through six year olds).
The Center for Families is also home to a parent education program. Parents and caretakers can attend classes with their infants and toddlers and discuss parenting issues with each other and a parenting education expert. There is a class just for dads and toddlers, too.
Since 1987, Gail Davenport has been a program coordinator for the college's Family Life Education Department and a board member for OPEP. She can speak to the role parent education plays as an educator, a student, a parent, and a grandparent. Cooperative preschools have been a part of the education of three generations of her family.
In 1953, at age 4, Davenport attended a cooperative preschool in Yakima. In 1977, she enrolled in a parenting class at Edmonds CC with her 12-month-old daughter. Later, she and her daughter participated in the Lynnwood Meadowdale Cooperative Preschool (now housed at the Center for Families). Davenport went on to become a children's teacher and, in 1980, a parent education instructor.
Her daughter, Daysha Decker, is now a member of the Mountlake Terrace Cooperative Preschool, where Davenport's 4-year-old granddaughter, Josslynn, will be enrolled this year.
Edmonds CC took a leadership role as a parent education provider in the state when it opened the Center for Families on campus in September 2003. The college's initial plans to expand its on campus childcare grew into a vision of creating a community resource for parents and professionals working with young children and their families.
The community saw the center as a way to create educational opportunity for Snohomish County children in the first years of life and to help families. It joined the Edmonds CC Foundation in an effort to raise funds for the center. More than 360 individuals, corporations, organizations and foundations, including Edmonds CC students and employees contributed to the three-year, $4 million campaign.
The Center for Families now serves an average of 250 children, from 3 months to five years old, each week in childcare including Head Start. It models best practices in early childhood education and family support studies for Edmonds CC students studying in those programs and is home to parent education classes and a cooperative preschool.
Find out more
TOP