Campus Safety & Emergency Preparedness
Ensuring a Safe Place to Study and Work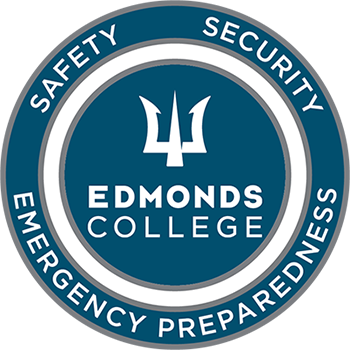 Parking Citation Appeals

Citations may be appealed by completing the online appeal form. No hard copy/paper appeals will be accepted (WAC 132Y-100-108). You must file an appeal online within five days of the ticket date. You will receive campus email notification of the appeal decision within 10 business days.

Start Appeal
Contact Us!
Woodway Hall 214
Reach an Officer Anytime: 425.754.0154
Office: 425.640.1501 During office hours only
Email: security24.7@edmonds.edu
Do not use email for urgent communication. Call the anytime officer number for anything needing urgent response.
You can also reach Campus Security through any of the yellow call boxes or blue tower phones on campus.
Office Hours
Mon.-Thurs.: 7 a.m.-7 p.m.
Fri.: 7 a.m.-4 p.m.
As always, for urgent Security needs call 425.754.0154 and an officer will respond
---
How Do I File a Report?
Call the Campus Security Office: 425.640.1501
or the 24/7 cell phone 425.754.0154.
Security will be dispatched to the site of the incident.
For any emergency, please call 911 first and then notify Security.

You may also file a report in person at the Security Office: Woodway (WWY) 214.
All reports will be reviewed by the Security supervisor and routed to the correct department/s.
Without disclosing reporting persons names, or other personally identifying information, Security will promptly notify the college community of reported crimes that are considered a potential threat to campus safety. This will allow the college community to take steps to prevent similar occurrences of this crime.
Clery Act Timely Warning Messages
Read the most up-to-date timely warning messages. Learn more about Clery Act Timely Warning Messages.
Mission Statement
It is the duty of each department team member to provide fair, impartial, and professional safety, security and emergency response service to all persons who enter our campus. Our professionalism will be recognized by our deeds, actions, attitude, and positive work ethic. As part of the Edmonds College team, we will safeguard the people, resources, and facilities of these "halls of education."
Mode of Operation
Edmonds College provides campus public safety through our Safety, Security and Emergency Preparedness Department (SSEP), which operates 24 hours a day year round.
The department facilitates the safety and security of the students, staff, faculty, visitors, and property of EC. SSEP is a service-oriented organization promoting safety, security, education, preparedness, and personal responsibility. It coordinates all safety, preparedness, emergency response and recovery operations on campus.
The department consists of the Director, Assistant Director of Security Operations, and Assistant Director of Emergency Preparedness, Health and Safety, a Program Specialist, an Office Assistant and twelve full-time Security Officers.
TOP