English instructors 'Imagine Peace' in May 14 reading
05/07/2009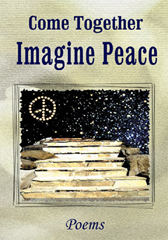 "Come Together: Imagine Peace."
Edmonds College English instructors Holly Hughes, Martha Silano, and Sarah Zale have published poems in "Come Together: Imagine Peace," a poetry anthology from Ohio's Bottom Dog Press. They will read from the anthology 4 p.m., May 14 in The College Cafe.
Copies of the anthology will be available for purchase. This event is part of activities focused on sustainability, including social justice, in May at the college.
The poetry collection edited by Philip Metres, Ann Smith, and Larry Smith includes poems of witness and elegy, exhortation and action, reconciliation, shared humanity, wildness and home, ritual and vigil, and meditation and prayer.
In the introduction to the anthology, editor Metres writes: "Peace poetry is larger than a moral injunction against war; it is an articulation of the expanse, the horizon where we are one. To adapt a line by the Sufi poet Rumi: Beyond the realm of good and evil, there is a field."
Find out more
Take an English class. Literature, creative writing, and journalism
TOP