Civil rights activist Myrlie Evers-Williams speaks on campus
01/16/2009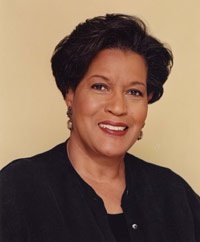 Civil rights activist Myrlie Evers-Williams
Civil rights activist Myrlie Evers-Williams, the first woman to chair the National Association for the Advancement of Colored People (NAACP), spoke at Edmonds College this month.
Evers-Williams, along with her first husband Medgar Evers, opened and managed the first NAACP Mississippi State Office. Together the couple organized voter registration drives and civil rights demonstrations. Evers-Williams continued the civil rights work, eventually becoming chair of the national organization after Evers was killed by a white supremacist in 1963.
She is the author of a memoir "Watch Me Fly: What I Learned on the Way to Becoming the Woman I Was Meant to Be" (1999), about her journey from being the wife of an activist to becoming a community leader in her own right, and "For Us, the Living" (1967), about the civil rights struggle in Mississippi and her late husband's life and work.
The City of Lynnwood's Martin Luther King Jr. Celebration is an inclusive recognition of diversity. This year's event is in partnership with Central Washington University, Edmonds College, Edmonds School District, The Journal Newspapers, and Lynnwood Rotary.
In the past, the celebration has featured guest speakers: Martin Luther King III, the second oldest child of slain civil rights leader Martin Luther King Jr.; Juan Williams, a senior correspondent with National Public Radio and Fox News political analyst; and inspirational speaker and author Azim Khamisa.
Find out more
TOP