Free French films: The Tournées Festival at Edmonds College
11/17/2009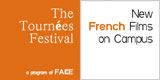 Edmonds College hosts a free French film festival with double features airing 5 p.m. and 8 p.m., Nov. 16 and 17, and a matinee 12:30 p.m., Wed., Nov. 18 in the Black Box Theatre in Mukilteo Hall, 20000 68th Ave. W, Lynnwood.
Sweet and savory crepes, French cheese, pastries, and drinks available for purchase at the show.
The college is participating in The Tournées Festival of new French films on American college campuses, funded by a grant from FACE, an organization for French American Cultural Exchange. A student French Club helps host the event.
The films are:
"Unsecret" (The Secret) — 5 p.m., Mon., Nov. 16
"Entre les murs" (The Class) — 8 p.m., Mon., Nov. 16
"Indigenes" (Days of Glory) — 5 p.m., Tues., Nov. 17
"13 Tzameti" — 8 p.m., Tues, Nov. 17
"Paris, je t'aime" — 12:30 p.m., Wed., Nov. 18
Find out more
TOP