Center for Service-Learning hires first full-time coordinator
02/02/2009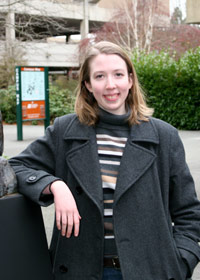 Service-Learning Program Coordinator Amy Johnson
Amy Johnson is the new Service-Learning Program Coordinator, a new full-time position for the college's Center for Service-Learning.
Johnson will work with faculty to develop service-learning opportunities and will recruit students to join Students in Service AmeriCorps program, which allows students to earn AmeriCorps scholarships by participating in community service projects as part of their class work.
Johnson previously worked as an AmeriCorps volunteer for Washington Conservation Corps and Snohomish County Marine Resources.
She earned her bachelor's degree in Interdisciplinary Arts and Sciences at UW Bothell and her transfer degree at Cascadia Community College.
Find out more
TOP