Horticulture alumna Lisa Snow Lady exhibits paintings
02/10/2009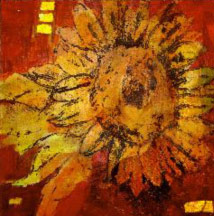 Horticulture alumna Lisa Snow Lady's paintings are on exhibit at the UW's Miller Library through March 31.
"Drought Tolerance," an exhibit of horticulture alumna Lisa Snow Lady's mixed media paintings, can be seen through March 31 at the Center for Urban Horticulture's Miller Library, 3501 NE 41st St., Seattle.
A reception is 5-7 p.m., March 11. Lisa Snow Lady earned her certificate in Ornamental Horticulture at Edmonds College.
Find out more
TOP