See 'Crumbs from the Table of Joy' at Black Box Theatre
02/11/2009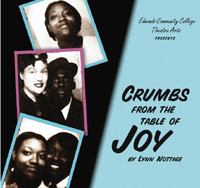 "Crumbs from the Table of Joy"
Edmonds College's Theater Arts program presents Lynn Nottage's "Crumbs from the Table of Joy" 7:30 p.m., March 5-7 and 12-14 and 2 p.m., March 8 in the college's Black Box Theatre. The show March 6 will be American Sign Language (ASL) interpreted.
Prolific American playwright Lynn Nottage ("Intimate Apparel"), a recipient of the 2007 MacArthur Foundation Genius Award, has created a pungent sense of time and place with a portrait of an African-American family's move north to Brooklyn in 1950.
Tickets are on sale at the box office in Mukilteo Hall, 11 a.m. to 1 p.m. Mon.-Thurs. Or, call 425.640.1448, 10 a.m.-3 p.m., Mon.-Thurs. The cost is $11 general and $9 for students/seniors.
The show's cast includes Alicia Jones as Lily Ann Green; Ronnie "Dizzle" Morrison as Godfrey Crump; Kendra Woods as Ernestine Crump; Autumn Walker as Gerte Crump; and Lillian Afful as Ermina Crump.
Theatre Arts instructor Joanna Goff directs.
The next Edmonds College Theater Arts performance will be "As You Like It in May" at the Edmonds Center for the Arts, 410 Fourth Ave. N, Edmonds.
Find out more
TOP