Shakespeare's 'As You Like It' runs May 14-16
05/06/2009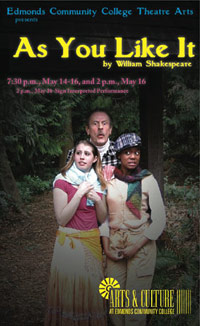 "As You Like It"
Edmonds College's Theater Arts department performs Shakespeare's "As You Like It," 7:30 p.m., May 14-16 and 2 p.m., May 16 at the Edmonds Center for the Arts, 410 Fourth Ave. N, Edmonds. The show 2 p.m., May 16 has American Sign Language (ASL) interpretation.
Romance and redemption are Shakespeare's timeless themes in this romp through the forest of Arden, featuring the wit and wisdom of Rosalind, masquerading as a boy. Tickets cost $11 general admission, or $9 for students and seniors.
2009-10 Theater Season
"The Man Who Came to Dinner" by Kaufman and Hart – Nov. 12-21, 2009. A cranky critic with a broken hip, convicts, penguins, a backstabbing actress, cockroaches, a romantic reporter, and a sincere secretary. This classic from the late '30s is wickedly funny and still fresh.
"Nickel and Dimed" by Joan Holden – February 18-27, 2010. Based on the book by Barbara Ehrenreich, a provocative, humorous, autobiographical odyssey of survival on minimum wage in today's America.
"Side By Side by Sondheim" music and lyrics by Stephen Sondheim – May 13-22, 2010 The sophistication, wit, insight, heart, and genius of Broadway's most innovative and influential artist is at the center of this tribute to composer-lyricist Sondheim.
Find out more
TOP