Staff members give presentation on trip to India
05/19/2009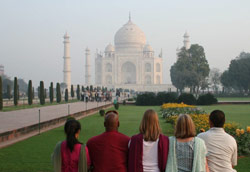 Senior Associate Dean of Student Life and Development Nicola Smith and Athletic Director Faimous Harrison traveled to India in February for a month-long Rotary Group Study Exchange (GSE) with team members Wendy Law, senior staff scientist at Fred Hutchinson; Dena Schuler, recreation coordinator for Seattle Parks and Recreation; and Kyle Funakoshi, associate director/volunteer programs for the University of Washington Alumni Association.
They will give a presentation about their travel and experiences in India 9 a.m., Thurs., June 11 in Snohomish Hall 304.
Smith is the immediate past president of the Rotary Club of Lynnwood. Faimous Harrison, the college's Athletic Director, was selected to participate as an administrative fellow on the trip.
The GSE is the Rotary Foundation's most significant international development program for young professionals who are non-Rotarians. A rigorous professional development curriculum is developed with the participant, their employer and Rotary collaboratively.
The GSE participants visited clubs in the hosting district while staying with host families and studying vocations and culture.
TOP