Conversations in the Humanities lecture series on in the Black Box Theatre
10/20/2009
Join Edmonds College in 2009-2010 for a series of smart conversations about the future and how we can adapt and participate in our changing world.
Conversations in the Humanities lectures, panels, and discussions will feature cultural activists including photographer Phil Borges and marketer Marty McDonald, as well as local artists, leaders, and Edmonds College instructors.
The lectures take place at 7:30 p.m. on campus in the Black Box Theatre. Free and open to the public. For more information, call 425.640.1448.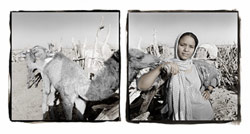 "Abay," by Phil Borges. The photographer speaks Feb. 11 in the Black Box Theatre.
The 2009-2010 conversation series:
Who are the People in Your Neighborhood?: Artists in Community, 7:30 p.m., Wed., Nov. 18 — Local artists talk about building community at a panel hosted by Edmonds College's literary and arts journal, Between the Lines.
The Politics of Public Art, 7:30 p.m., Tues., Dec. 8 — Join a panel discussion with arts leaders from the college, Snohomish and King counties (including representatives from 4Culture, www.4culture.org, King County's cultural services agency), and the cities of Edmonds and Lynnwood.
Active Citizenship: How do We Participate Meaningfully?, 7:30 p.m., Wed., Jan. 20 — a panel discussion about how to participate meaningfully as a citizen.
Telling Stories That Inspire: Building Narrative Around Solutions, 7:30 p.m., Wed., Feb. 11 — Photographer and activist Phil Borges, www.philborges.com, will talk about his life's work — visiting and documenting indigenous and tribal cultures around the world. His books include Tibetan Portrait, Enduring Spirit, and Women Empowered.
How Can the Arts Effectively Seed Social Activism?, 7:30 p.m., Wed., Feb. 24 — A panel of local arts leaders discusses the convergence of art and activism. An example of this is Edmonds College Theatre Arts' Feb. 18-27 production of Nickel and Dimed, a play based on Barbara Ehrenreich's autobiographical account of trying to live on minimum wage in America.
Conscious Consumerism: Taking Control in an Out of Control Market, 7:30 p.m., Thurs., April 8 — Marty McDonald, co-founder of Egg (eggusa.net), a marketing firm that specializes in sustainable lifestyle marketing, talks about socially responsible consumers and the brands that seek their business.
Find out more
Can't make a lecture? Catch it online at www.theatreedmonds.org
TOP