Edmonds CC Drama presents 'The Man Who Came to Dinner'
10/30/2009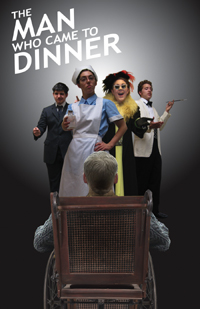 "The Man Who Came to Diner."
Edmonds College drama presents "The Man Who Came to Dinner."
Featuring a cranky critic with a broken hip, convicts, penguins, a backstabbing actress, cockroaches, a romantic reporter, and a sincere secretary, this classic from the late '30s, by George S. Kaufman and Moss Hart, is still fresh and wickedly funny.
Join us! 7:30 p.m., Nov. 12-14 and Nov. 19-21; matinee: 2 p.m., Nov. 15; sign-interpreted performance: 7:30 p.m., Nov. 19 in the Black Box Theatre, Mukilteo Hall.
Tickets: $9 general admission and $6 students/seniors
Go behind the scenes. Try acting, voice and diction, scenic design and construction, and theater production. Take a drama class this winter! Go to www.edmonds.edu/schedule.
Find out more
TOP