VP of Workforce Development accepts chancellor position at college in Indiana
02/23/2010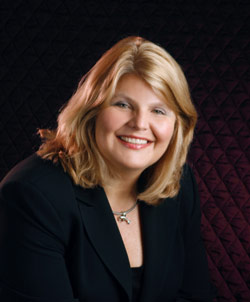 Edmonds College's Vice President for Workforce Development Jerrilee Mosier is the new chancellor of Ivy Tech CC in Indiana.
Jerrilee Mosier, Edmonds College's Vice President of Workforce Training and Development, will be the next Chancellor at Ivy Tech Community College – Northeast in Fort Wayne, Indiana. She assumes leadership of a four-campus district in Fort Wayne on July 1, 2010.
"Jerrilee's vision, creativity, and leadership will be missed," said Edmonds College President Jack Oharah.
Mosier has worked at Edmonds College since 1998. Previously she was Vice Provost for Academic Affairs at Oklahoma State University-Oklahoma City for seven years.
She earned the college's Excellence in Education Award in 2003. Her work that year was seen as directly contributing to the college's ability this year to: begin new Allied Health Education programs, expand distance learning offerings by 25 percent and provide access to more than 6,800 students online and obtain a $500,000 Department of Defense appropriation, with the aid of U.S. Sen. Maria Cantwell, to begin a Materials Science Technology degree this fall.
Mosier was also commended for her ongoing work to bring in more than 300 technical experts and community members to advise the college on how best to provide cutting-edge, quality career-training programs for its students.
She earned her doctorate in higher education administration at Oklahoma State University in 1983, her master's degree in learning disabilities from University of Tulsa in 1980, and her bachelor's of science in special education from Oklahoma State University in 1976.
Mosier is a past member of the Snohomish County Workforce Development Council and the oversight committee for the Lynnwood WorkSource Center.
TOP