Edmonds College President Jack Oharah announces plans to retire
03/12/2010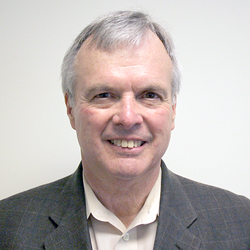 Edmonds College President Jack Oharah
Jack Oharah, who has led Edmonds College for nearly 15 years, announced his retirement today. The college will begin its search for a new president in April. Oharah is expected to stay on board through the end of 2010. The college will conduct a nationwide search for a new president this spring. A search committee appointed by the college trustees will help select finalists for the position over the summer.
Oharah, 66, became president of Edmonds College in 1996. Previously, he had been vice president of instruction for Butler County Community College in Kansas.
In retirement, Oharah plans to return to Kansas. He has built his dream home on a farm there and will join his wife, Elaine, to spend time with his three children and ten grandchildren most of whom also live in Kansas.
When Oharah joined Edmonds College, it served about 11,000 students annually. It now serves 20,000. The college campus has grown as well. The college has added five buildings including Snoqualmie Hall, shared with Central Washington University, and renovated key buildings including Mountlake Terrace Hall, the first building constructed on campus in 1970. The college now has dedicated space for childcare, a college theater, and student housing.
"I'm very proud of this college and the people in it," Oharah said.
Over the years, state support for the college's operations has dwindled. State-funding now makes up just over half of the college's $46.5 million operating budget. To maintain high quality, in the face of increasing enrollment and declining state-support, Oharah encouraged an entrepreneurial culture at the college.
He increased the college's grants writing capacity. The college now employs two grant writers and has received ten National Science Foundation grants. Funding for the college from grants and contracts totaled more than $35 million in 2008-09.
Oharah has taken a leadership role among the community college presidents, serving as the Presidents' Advisor to the Association of Community College Trustees and on the Executive Committee and Operating Budget Committee of the Washington Association of Community and Technical Colleges.
Oharah has also been active in local boards as a member of the Snohomish County Economic Development Council, the Snohomish County Workforce Development Council, and the Edmonds Public Facilities District.
He earned his doctorate in higher education and community college administration in 1980 at the University of Iowa.
Edmonds College's leadership includes seven vice presidents who serve under the college president led by five trustees each appointed to five-year terms by the governor. The trustees are: Mauri Moore, Dick Van Hollebeke, Jeannette Wood, Quentin Powers, and Emily Yim.
In other transitions at the college, Jerrilee Mosier, the college's vice president of workforce development since 1998, has taken a new position as chancellor of a community college in Indiana. Mosier begins her new role July 1.
Edmonds College will create an interim position to replace Mosier, leaving it open for a new president to hire the vice president of workforce development.
The remaining vice presidents are: George Smith, who has been with the college since 1979, and is in charge of student services; Marty Cavalluzzi leading instruction since 2006; John Michaelson heading college relations and advancement since 2007; David Cordell, the college's former dean of international education, who took on a new role as vice president of international education in 2008; Mark Cassidy hired to lead human resources in 2008; and Kevin McKay, the college's former director of distance learning, appointed in 2009 to serve as interim vice president of finance and operations.
###
Established in 1967, accredited by the Northwest Commission on Colleges and Universities, and governed by the Washington State Board of Community and Technical Colleges, Edmonds College is a leader in providing quality opportunities for learning and service, responding to the dynamic needs of our diverse community.
Find out more
TOP