Take a no cost Computer Forensics class Sun., Dec. 5
11/17/2010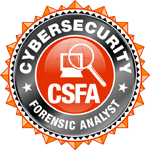 Students at Edmonds College who have completed Computer Information Systems classes 201, 272 and 273 have the opportunity to test for CyberSecurity Forensic Analyst certification, an industry-recognized cert for digital forensics examiners.
This no-cost course is endorsed by Edmonds College, the Washington State High Technology Crime Investigation Association, and CyberSecurity Institute. It is open to the public.
Expert Steve Hailey takes participants through an actual computer forensics case. Topics covered include data storage and hard drive primer, sources of data and evidence, computer forensics procedures, preparing to testify and information about technology programs at the college including a Digital Forensics certificate.
Hailey is the president of CyberSecurity Institute, a company specializing in computer forensics and information security services. He teaches digital forensics and information security at Edmonds College.
Topics include:
Data storage, hard drives and media
Sources of data and evidence
Forensics in a networked environment
Computer forensics procedures
Computer forensics experts - becoming one
Employment outlook
Preparing to testify
Find out more
Computer Information Systems classes: Digital Forensics, Info Security, and more!
TOP