The Tournées Festival of French films Jan 12-14 at Edmonds College
01/04/2011
The Tournées Festival of French films comes to Edmonds College Jan. 12-14 in the Black Box Theatre, sponsored by the French American Cultural Exchange and the college's Arts, Culture and Civic Engagement program. All films are free and open to the public.
Refreshments will be for sale by The Edmonds CC French Club. Bring your checkbooks for the French Theme Basket Raffle, a fundraiser for the French club.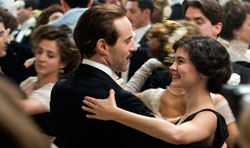 Coco Avant Chanel (Coco Before Chanel) is the final featured film at The Tournées Festival of French films at Edmonds College Jan. 12-14 in the Black Box Theatre.
Wed., Jan. 12
12:30, p.m., Panique au village (A Town Called Panic), The giddy, chaotic pace in Stéphane Aubier and Vincent Patar's first feature, a marvelous fantasia made using meticulously detailed stop-motion animation and a cast of 1,500 plastic-toy figures, never lets up for a second. Seemingly inspired by the manic energy of the Marx brothers and old Warner Bros. cartoons, A Town Called Panic, which originated as a cult-favorite TV show, is ultimately in a class of its own, its playful, nonstop anarchy bound to appeal to children and adults alike.
7 p.m., Welcome. Both a study of a budding friendship and a compassionate look at the perils faced by illegal immigrants, Philippe Lioret's Welcome centers on Bilal, a 17-year-old Iraqi Kurd who is stuck in Calais, in Northern France, and Simon, a recently divorced swimming teacher. Desperate to join his girlfriend in London, Bilal vows to swim across the English Channel if he has to, setting the stage for his meeting with Simon. Unmistakably a condemnation of xenophobia in France, Welcome also features richly drawn, fully fleshed-out lead characters.
Thurs., Jan. 13
12:30 p.m., C'est dur d'être aimé par des cons (It's Hard to Be Loved By Jerks) with Robert Horton, film critic for KUOW 94.9 and The Herald in Everett. This important documentary on the freedom of the press, censorship, and the right of religious minorities looks at a crucial 2007 Paris trial. Several Islamic organizations brought charges of racist slander against the French news weekly Charlie Hebdo for reprinting 12 satirical cartoons depicting the prophet Mohammed. Leconte captures cogent, passionate speakers on both sides of the argument, reminding viewers of the absolute necessity of both the right to publish and the right to protest.
6 p.m., music by Danick
7 p.m., L'ennemi intime (Intimate Enemies). Set in 1959, Florent-Emilio Siri's film is a harrowing depiction of Algeria's war for independence, the contradictory title referring to the fact that less than ten years after French and Algerian soldiers fought together against the Nazis, they were battling each other.
Fri., Jan. 14
6 p.m., music by Danick
7 p.m., Coco Avant Chanel (Coco Before Chanel), Anne Fontaine's thoughtful exploration of the pre-fame life of the world's greatest fashion designer focuses on Coco Chanel during the Belle Epoque. The film opens in 1893 with a powerfully grim scene of 10-year-old Coco and her sister unceremoniously dumped at an orphanage and ends around World War I, a few years before the Chanel empire is launched.
Find out more
TOP