Photography on exhibit in the College Cafe: "Backbeat," by Star Rush
01/26/2011
View new works by Star Rush in "Backbeat," an iPhone 3Gs photo exhibit, through April 15 in the College Café. The College Café in Brier Hall is a full service restaurant with new entrees each week prepared by Edmonds CC Culinary Arts students. Open 11:30 a.m.-1 p.m., Monday through Thursday (most weeks).
Closed during the summer and between quarters. Call for reservations: 425.640.1405.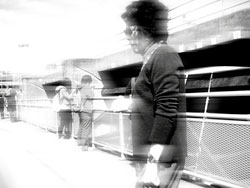 "O Electra: when what was motionless moves," iPhone 3Gs photo by Star Rush.
About "Backbeat," an iPhone 3Gs photo exhibit by Star Rush
This recent body of work by the artist explores the experience of shared alienation and a longing for the other in contemporary urban life. The rhythm of the streets, the pace of life, is rife with improvisation and serendipity for the artist, who captures her images with only an iPhone.
Using predominantly public spaces, Rush enjoys the creative stimulus that sometimes comes with constraint, such as using the unassuming mobile phone, with its limited camera and photo apps. The iPhone allows the artist an intimacy and immersion in the world she is trying to describe.
Find out more
TOP