Reception for visiting artist from Cameroon will be April 15
04/13/2011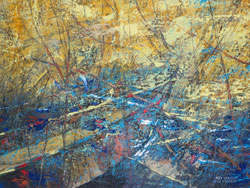 "The Positive Forest," Max Lyonga
Works by painter Max Lyonga of Cameroon are on display in an exhibit, "Therapy of Hope," through June 10 in the Edmonds College art gallery.
A reception with the artist will be 4-6:30 p.m., Fri., April 15 in the college art gallery, third floor Lynnwood Hall, 20000 68th Ave. W, Lynnwood. It will feature new music by Gypsy Reeds, Strings & Skins, an acoustic world jazz quartet and food prepared by Edmonds College Culinary Arts.
Lyonga, of Buea, Cameroon, is an accomplished painter with international exposure whose work depicts themes of contemporary life in southwest Cameroon. His exhibit "Therapy of Hope" brings a positive message that transcends cultures.
Lyonga is noted for using his art to uplift people in his impoverished nation and has joined The World Bank's Fight Against Poverty. His charitable projects include bringing art to street children and donating the proceeds from his art sales to help children suffering from HIV/AIDS.
Lyonga will visit the Lynnwood area April 2-16 to work with art students at the college as well as students at ten area K-12 schools. The students have been participating in an art and letter exchange with students in Cameroon and will work on a mural begun by students in Cameroon.
The Edmonds College art gallery is open 7:30 a.m.-9 p.m., Monday-Thursday, 7:30 a.m.-2 p.m., Friday, and 1-5 p.m., weekends this spring.
Lyonga's visit is part of the college's focus on modern Africa in 2011. The college's focus on art and ideas from nations including Cameroon, Malawi, Somalia, and Kenya stems from the personal connections of college students and employees and from varied interests. In focusing some attention across the globe, the college acknowledges its role in international education as it prepares students to take their place in a global workforce.
Students can register for East Africa in the Modern World this spring, an English composition class that explores current issues in East Africa and how technology, a modern economy, health issues, and population expansion affect the various countries in the region.
Find out more
TOP