Community Read awards three scholarships
04/11/2011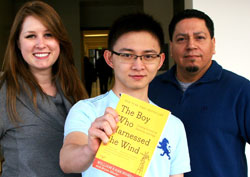 Edmonds CC Community Reads Scholars, left to right, Kelley Hefflinger, Thanh Nhat Nguyen (center), and Juan Valdez.
Edmonds College students Kelley Hefflinger, Thanh Nhat Nguyen, and Juan Valdez have been awarded $1,100 scholarships to apply toward their spring quarter tuition as part of the Edmonds CC Community Read.
The book this year is "The Boy Who Harnessed the Wind" by William Kamkwamba and Bryan Mealer. It tells Kamkwamba's story of discovering how to build a windmill to provide electricity for his family in Malawi.
Students were invited to prepare a presentation in response to "The Boy Who Harnessed the Wind" to compete for three scholarships from the Edmonds College Foundation.
Hefflinger's artistic response to the book was to paint a door with acrylic and applied images on rice paper.
Nguyen wrote a poem, "I Can," and created a video.
Valdez created a poem and collage entitled "El Legado: My legacy." The students' final projects will be on display in Mukilteo Hall.
Hefflinger, 21, of Freeland, works as a barista for Whidbey Coffee. By enrolling in college, she's pursuing her dream of being an artist and becoming a middle school art teacher. She plans to transfer to Central Washington University to earn a Bachelor of Fine Arts in Studio Arts. Her husband, Jonathan, is studying business administration at CWU-Lynnwood.
Nguyen, 20, is an international student from Vietnam. He is studying computer science at Edmonds College and will complete his Associate of Science degree this spring. He plans to transfer to Seattle University or the University of Washington to continue his computer science studies as he works toward a career as a software programmer.
Valdez, 45, of Edmonds, is a retired Army combat medic who is now pursuing his passion for painting and modern art. He is earning an Associate of Arts degree with plans to transfer to the University of Washington or Cornish School of the Arts. His long-term goal is to earn a Master of Fine Arts and to teach art. He is raising four children with his wife, Catherine. His oldest son, Jacob, 19, is earning a computer Game Development certificate at Edmonds College.
Get money for college: tuition, books, and fees
Current and future students of Edmonds College may apply online at www.edmonds.edu/foundation for a 2011-12 scholarship from the college Foundation. Scholarship applications are due 4 p.m., April 15. Questions? Call 425.640.1274
Established in 1982, the Edmonds College Foundation supports access, success, and excellence for students, faculty, and staff at Edmonds College.
Find out more
TOP