Jen Matthews to direct Black Box Theatre
04/15/2011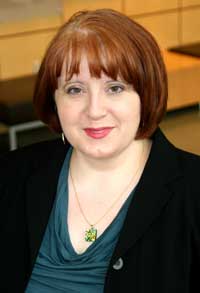 Jen Matthews
Jen Matthews is the director of Edmonds College's Black Box Theatre — a 200-capacity enclosed theater space with flexible seating that opened on campus in January 2008. The theater serves as a community events space to enhance arts education in Snohomish County.
Matthews has more than 20 years of theater experience in production management, theatrical stage management and event touring. She teaches stage management at Seattle Pacific University and is the Production Stage Manager for Showtunes Theatre Company in Seattle. Previously, she was a tour technical manager at the Production Network for Step Into Africa and the production manager at Taproot Theater Company.
She is a member of Theatre Puget Sound, Actors' Equity Association, and the Stage Managers' Association. Her experience includes professional comedy improv and clowning.
Matthews earned her Bachelor of Arts in Theater, Lighting Design and Stage Management at Seattle Pacific University and her Master of Fine Arts in Drama and Stage Management at the University of California, Irvine.
The college's former theater director, Jim Bovino, left the position to join Finnriver Farm in Chimacum, Washington.
Upcoming at the Black Box Theatre in 2011, look for improv comedy and a series of events featuring the talents of local divas, local bands, and exciting solo performances.
Find out more
TOP