College hires women's basketball coach, Tarrance Tucker III
06/21/2011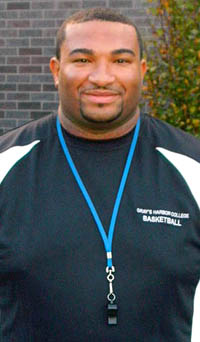 Tarrance Tucker III, head women's basketball coach at Edmonds College.
Tarrance Tucker III is the head women's basketball coach at Edmonds College.
Tucker most recently served as head coach at Forest Ridge School of the Sacred Heart in Bellevue, and has also coached within the Northwest Athletic Association of Community Colleges as an assistant at both Grays Harbor College and Pierce College.
In 2006, he volunteered with the University of Washington's men's basketball team under coach Lorenzo Romar, where he said he learned that structure and discipline are the key factors in building a successful athletics program.
"I am excited to have Tarrance on board at Edmonds College," said athletic director Clay Blackwood. "His educational and coaching background makes him a great fit, and I look forward to watching the growth of women's basketball under Coach Tucker's guidance."
Tucker holds a bachelor's degree in Communication Studies from Seattle University and an associate degree from Pierce College Fort Steilacoom. In addition to coaching, Tucker works at Everest College as a high school presenter.
###
Edmonds College Athletics
Edmonds College fields baseball, men's and women's basketball, men's and women's soccer, softball and volleyball teams as part of the Northwest Athletic Association of Community Colleges. Scholarships are available to student-athletes funded by the Edmonds College Foundation. The college mascot, the Triton, is prince of the sea in Greek mythology, and commands the ocean waves. www.edmonds.edu/athletics
Edmonds College
Accredited by the Northwest Commission on Colleges and Universities, and governed by the Washington State Board of Community and Technical Colleges, Edmonds College, a two-year public college in Lynnwood, Washington, is a leader in providing quality opportunities for learning and service, responding to the dynamic needs of our diverse community.
Established in 1967, on 50 acres in Lynnwood, Wash., the site of a World War II era Army radio station, the college has longstanding construction, horticulture, paralegal, and parent education programs. It has partnered with Central Washington University since 1975 to offer bachelor's degrees locally. Opportunities for learning and service provided by the college include: 12 National Science Foundation grants, service-learning projects with 69 community partners, and more than 75 cultural events for the public each year. The college serves: 20,000 students each year including: 2,200 students (aged 18 to 82) annually in its adult literacy programs; 1,589 international students from 70 countries; and 5,000 students in online or hybrid classes. 81 percent of our students live within eight miles of campus.
Source: 2009-10 academic year data
Find out more
TOP