Art reception: Metropolis, Works by Evan Blackwell Oct. 14
10/12/2011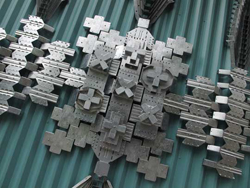 Evan Blackwell, Metropolis, detail, 2011, galvanized and stainless steel Photo credit: Jason Hasenbank
Edmonds College's art gallery features "Metropolis, Works by Evan Blackwell" through Dec. 9. The exhibit reflects the planning for and response to Blackwell's metal sculpture, Metropolis, commissioned for the front of Meadowdale Hall on the college campus.
The recently renovated classroom building houses the college's Visual Arts, Construction Management, Energy Management, and Visual Communications programs.
"My goal is to reinvent much of my surroundings both philosophically and physically in order to experience a more fulfilling life," said Blackwell, who is represented by Foster/White Gallery in Seattle.
A dedication for the artwork Metropolis will be 3-4 p.m., Wed., Oct. 14 at Meadowdale Hall followed by a reception for the artist 4-6:30 p.m. in the Art Gallery, Lynnwood Hall with refreshments provided by the college's Culinary Arts department.
Art gallery hours are: 7:30 a.m.-9 p.m., Mon.-Thurs.; 7:30 a.m.-2 p.m., Fri.; and 1-5 p.m., weekends. For more information, call 425.640.1744 or go to www.edmonds.edu/gallery. For directions to campus, www.edmonds.edu/campus.
2012 exhibits in the Edmonds College art gallery:
Jan. 9-Feb. 24 | Kristen Ramirez
March 5-April 20 "| Dinner for Two by Five" pottery exhibit
April 30-June 8 | Edmonds College Student Exhibit
Find out more
TOP