Arts Crush at the Edmonds Conference Center Oct. 20
09/30/2011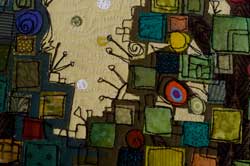 Deep Space fiber art on exhibit at ArtsNow: Deep in the Woods by Terry Grant Photo: G. Armour Van Horn
"Four Women," 4 p.m., Oct. 20 at the Edmonds Conference Center — pay what you can — Marianne Trowbridge stars in this new play by Rebecca Redshaw. A tour de force, the 85-year-old actor commands the stage for an hour and a half, portraying four different women from the ages of 55 to 101! By the play's end, the audience finds there are even fewer degrees of separation in life than any connection to Kevin Bacon!
Ekphrastic Ecstatic,7-8 p.m., Oct. 20 in the ArtsNow Gallery at the Edmonds Conference Center — Free! — The Floating Mountain Poets have taken inspiration from Deep Spaces, a touring, juried fiber art exhibit on display in the ArtsNow Gallery from October 20-December 9. Their fiber art-inspired original poems will be read live at the gallery as part of the Edmonds Art Walk. The poems will also be on exhibit with the art.
Arts Crush
Arts Crush is a month-long festival that connects artists and audiences with invigorating new experiences at hundreds of events across the region. Hundreds of arts organizations and innumerable artists from all over the Puget Sound have come together as a united arts community to share arts experiences with people of all kinds. Spotlighting a different discipline each week, the festival features opportunities to participate in theater, music, literature, dance, visual art, film and more. Arts Crush reawakens the senses by engaging people in the arts in unique ways; through hands-on participation, peeking behind the scenes, or experiencing art in unexpected places. In addition, Arts Crush extends an open invitation to sample the abundance of arts and culture in our region by adopting creative pay-what-you will or discounted fee structures for traditional arts experiences.
Find out more
TOP