Minh Carrico photos at Lynnwood Library Gallery Nov. 18-Jan. 5
11/15/2011
Edmonds College Visual Arts instructor Minh Carrico's photos will be displayed at the Lynnwood Library Gallery Nov. 18-Jan.5.
The exhibit is free to the public and presented by the Lynnwood Arts Commission.
The gallery is at 19200 44th Ave. W. Hours are: 10 a.m.-9 p.m., Monday-Thursday; 10 a.m.-6 p.m., Friday; 10 a.m.-5 p.m., Saturday; and 1-5 p.m., Sunday. Closed on national holidays. Call 425.670.5519.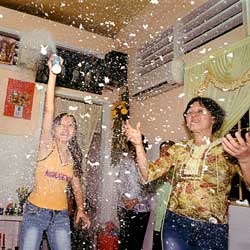 Minh Carrico, "Celebration", 2004, digital pigment print.
Minh's color photographic images represent two societies, two worlds that make up his identity: a white southern community in Little Rock, Arkansas where grew up during the 1970's, and Vietnamese culture through his mother, and his own travels. In many ways Minh still feels an outsider of both Western society and Viet Nam.
In 2002, Minh began surveying daily life of his remaining relatives in Viet Nam, and more recently he traveled back to Arkansas to captured forgotten memories and instances.
Minh is a professor of design and photography and co-chair of the Visual Arts Department at Edmonds College. His nearly 20 years of experience in the field has led to his passion for teaching the future generations of visual communicators. Outside the classroom, Minh works on a number of fine art photography projects and mix-media installations that address personal and social identity.
His visual art has been exhibited and published internationally.
Find out more
Edmonds College Visual Arts
TOP