Edmonds CC Foundation Auction lands Seattle chef Ethan Stowell
12/14/2011
Four-time James Beard finalist Ethan Stowell will take his Seattle culinary supernova act north for a special night this February as he is the guest chef for the annual Edmonds College Foundation Gala Dinner and Auction.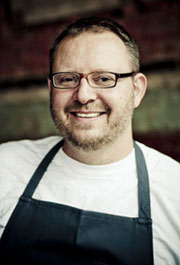 The Edmonds CC Foundation has landed one of Seattle's most celebrated chefs: Ethan Stowell.
Stowell's appearance and support is a huge boost for the Foundation, which is currently soliciting donations and sponsorships for the 26th year of one of the biggest gala events and fundraisers in the greater Edmonds and Lynnwood areas. "A Vintage Evening" Gala Dinner and Auction is set for Feb. 25, 2012, at Edmonds College, 20000 68th Ave. W, Lynnwood, 98036.
"We are beyond excited to have Ethan Stowell on board with us," said Kathy Coffey, Assistant Director of Development for the Foundation. "While this fundraising event always has community appeal, having, arguably, Seattle's hottest chef preparing an amazing dinner menu affirms for our donors, sponsors, auction attendees and volunteers that they are part of a truly special evening."
Stowell's Seattle restaurants – Tavalata, How to Cook a Wolf, Anchovies and Olives, and Staple and Fancy Mercantile – are among the most well-reviewed in the city. Bon Appetite named Anchovies and Olives among its Top 10 restaurants in America in 2010, the same year Ethan Stowell's New Italian Kitchen cookbook was published. Coffey said Stowell's presence is also a boost for the school's highly-regarded culinary arts program.
Students preparing for careers as cooks, kitchen managers, bakers, pastry chefs and other jobs in the food service industry will benefit from the experience and the interaction with Stowell, as they help prepare and serve the meals to auction attendees.
"It's an honor to join those at the beginning of their culinary careers and share any bits of experience or advice I've picked up along the way," Stowell said. "Those of us in this business here are excited to see new talent and interest in developing a thriving food scene in the Northwest. I'm happy to support the Foundation, and those who are formally educating the future cooks of Seattle's finest dining establishments."
The auction dinner has featured a number of highly-talented guest chefs. Honorary chefs over the last five years have included Peter Levine (The Waterfront Seafood Grill), Wayne Johnson (Andaluca), Lynne Vea (PCC Natural Markets), Doug Wilson (Ten Mercer) and Holly Smith (Café Juanita).
The Foundation hosts its auction and dinner annually to raise money for scholarships, faculty grants and capital improvements. It's an effort that has become ever more critical due to devastating state funding cuts to higher education in recent years.
"Our appreciation for the generosity of private donors and sponsors in supporting the college and our students during this ongoing economic recession cannot be overstated," said Chris Marx, Executive Director of the Foundation. "The demand has never been higher from community members working to attain the skills they need for the workforce, or to be retrained after losing jobs, at Edmonds College, and yet it comes at a time where we've had to trim instructional programs due to enormous state budget cuts."
As mentioned, now is the time to donate an item or sponsor the auction. All donors receive recognition for their gifts at the event, in the auction catalog, and in the Foundation newsletter, as well as donation tax deductions.
The auction is looking for things like easy weekend getaways, stays at time shares or vacation homes, local events, exclusive wines from personal collections, group dining events, experience gifts, home and vehicle services, and much more.
There are also still a number of auction sponsorship and table sponsorship opportunities remaining. If you are able to donate or are interested in sponsoring a table at the auction, please contact Kathy Coffey at 425.640.1512.
Find out more
TOP