Join Edmonds CC baseball team March 31 for the opening of Triton Field
03/23/2012
Join us 12:40 p.m., Sat., March 31, as we celebrate the grand opening of Triton Field. There will be free T-shirts for the first 100 fans.

After the ceremony, the Tritons baseball team takes on Shoreline Community College.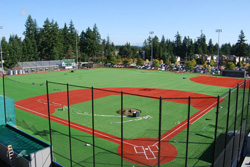 Triton Field at Edmonds College.
Please help us to maintain the new facility. Our turf rules:
No food, gum, or seeds
No personal chairs
No glass bottles or containers
Water or sports drinks only
Flat-bottom or athletic shoes only
Triton Field, Edmonds College's new multi-use turf field, replaces the college's grass baseball field.
The field, delayed due to a lack of funding, has been a long planned improvement for the college. Currently, the college's soccer and softball teams have to practice off campus. On rainy days, the baseball team resorted to Shop-Vacs and sponges in an effort to keep its soaked field usable.
"It will be a big draw for recruiting now that we have one of the best fields throughout the league," said baseball coach Brad Ditter.
Edmonds CC Associated Students came through to make it possible for the college to begin construction of the $2.5 million field last summer. A student fee of $1.50 per credit will pay off the field. The college provided the upfront funding.
"Student government approved the funding of this project to increase the usability of the field area and make it accessible to more students for recreation," said associated student leader Azan Jacobs. "The Triton Field will be a great addition to our campus. We have a new state-of-the-art housing facility, student center and now a recreational field — all within a couple of hundred feet of each other. This adds to the overall value of Edmonds College."
The field will be used for intramural activities, for intercollegiate sports teams — baseball, softball, and soccer — and academic physical education classes. It will also be available for community rentals.
The college's coaches were able to give input into the design of the field that will include softball and baseball press boxes, a ticket booth, and bleachers.
Said women's soccer coach Jeanette Delaney: "We'll go from having no soccer field on campus to having the largest turf pitch in all of Snohomish County."
Find out more
TOP