Paintings, jewelry on exhibit at Edmonds College ArtsNow gallery
03/02/2012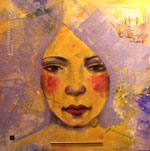 Femina 24x24 Acrylic, metal and latex paint on canvas, 2011 by Tracy Felix Fraker of Fraker/Scott Gallery in Seattle.
"Who We Are," an art exhibit featuring paintings by Lynn Scott and Tracy Felix Fraker of Fraker/Scott Gallery in Seattle and artisan jewelry by Robin Westbrook, is March 15 -April 13 in the ArtsNow gallery at Edmonds Conference Center, 201 Fourth Ave. N, Edmonds. A reception with the artists will be held 5-8 p.m., Thurs., March 15 at the Edmonds Conference Center during the City of Edmonds' Third Thursday Art Walk.
Live music and refreshments will be provided. Admission is free.
Fraker uses various techniques in acrylic on canvas. "My paintings are built in layers," she said. "Literally there are layers of color, texture, images and mixed media when it supports my concept. But also layers to the imagery. They can be viewed literally or symbolic of larger ideas."
Scott paints still life without boundaries in encaustic or acrylic mixed media. "I use objects to represent people and symbolize ideas. I always paint with the idea: Art makes you feel," she said.
Westbrook creates one of a kind, hand beaded, contemporary jewelry using mixed media and Swarovski crystals.
For more information, call 425.640.1243, email artsnow@edmonds.edu.
###
Edmonds College ArtsNow/uLearn | www.edmonds.edu/artsnow
ArtsNow and uLearn are Edmonds College's non-credit programs for lifelong learning opportunities. ArtsNow nurtures the arts from creation to commerce with introductory to advanced classes in visual, performing, and literary arts, including workshops on the business of being an artist. ULearn classes encourage lifelong learning and personal enrichment to help individuals acquire skills and knowledge to pursue their passions and interests—both old and new. The ArtsNow gallery is located at the Edmonds Conference Center in downtown Edmonds.
Find out more
TOP