27th annual Edmonds CC powwow is May 4-6
04/02/2012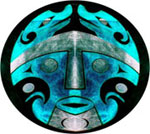 Artwork: Thomas Speer
LYNNWOOD — Edmonds College's Native American Student Association hosts the 27th annual powwow, "Echoes of Our Ancestors," May 4-6. The powwow brings together students, alumni, families and the community to celebrate Native American singing, drumming, and dancing. Food and arts and crafts vendors will be present all weekend.
This event is free and open to the public, in Seaview Gym, 20000 68th Ave. W.
Grand entries are typically the best time to come as a spectator. They start at 7 p.m., Friday, 1 and 7 p.m., Saturday, and 1 p.m., Sunday. Enjoy Native storytelling during intermission on Saturday, between 5-7 p.m.
The Edmonds CC powwow is proud to maintain a history of honoring tradition while at the same time empowering students to be creative and innovative as they learn important leadership skills while planning this event.
This year, musician and educator Arlie Neskahi, of the Dine' (Navajo) Nation. is the master of ceremonies. The arena director is Frank Goes Behind (Lummi).
For more information, call 425.640.1076.
Find out more
TOP