Edmonds College accounting student Siyu Lu honored
04/20/2012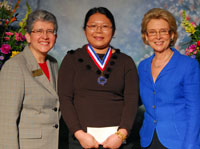 Siyu Lu (center) at the All-Washington Academic Team ceremony with Edmonds College President Jean Hernandez and Washington State Gov. Chris Gregoire.
Edmonds College student Siyu Lu, 22, of Lynnwood is one of seven nationwide recipients of a $1,000 scholarship from the Teachers of Accounting at Two-Year Colleges (tactcy.org), and the first from Washington state.
TACTYC scholarships are based on grade point average, recommendations, and the applicant's commitment to a career in accounting. Each year, TACTYC receives numerous applications nationwide.
"One of the most remarkable things about Siyu is the clear vision she already has regarding her academic path and future career plans," said Edmonds CC accounting instructor Matt Lothyan, who taught Lu in Payroll Tax and Federal Income Tax Prep classes. "Additionally, she has also recognized the importance of service and volunteer work and plans to create her own nonprofit organization in the future to assist others in whatever capacity she can."
In March, Lu also earned the All-Washington Academic Team honor, which recognizes the state's top community and technical college students for scholarship, leadership, and community service.
Lu plans to study accounting and finance at the University of Washington. Due to family issues, she was recognized as a homeless student in high school and survived by working part time and using food stamps. She's a full-time student taking Honors classes, helping to organize the college's Lecture Series, and volunteering as a tutor for at-risk youth. She also works part-time to pay for school and living expenses.
Lu will pursue a Master of Professional Accounting degree and become a Certified Public Accountant. She would like to work as a financial analyst with a taxation specialty, and her dream is to establish a nonprofit that promotes family financial literacy and educates the public about personal finance management.
Find out more
TOP