Community college board to consider tuition rates
05/09/2012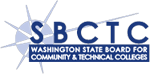 On Wednesday, the board will meet in private executive session from 12:05 p.m. to 12:55 p.m. for a staff performance review. The meeting will open to the public beginning at 1 p.m. and will feature a discussion of tuition rates, allocation of state funds to the 34 two-year colleges, and progress toward achieving Mission Study recommendations and developing next year's operating budget.
On Thursday, the board will reconvene at 8 a.m. to take action on tuition rates and budget allocations, and to discuss parenting education waivers and the Student Achievement Initiative. Thursday will also feature a presentation from Bill Bonaudi, who will retire June 30 after 17 years as president of Big Bend Community College.
The 2011-2013 state operating budget approved by the Legislature authorizes the board to increase tuition by up to 12 percent for the 2012-2013 school year to help offset budget reductions.
Big Bend Community College is located at 7662 Chanute Street N.E. Meetings will be held in the Library in Building 1800, and in the Grant County Advanced Technologies Education Center.
Meeting agenda and background materials are posted at the State Board Web site: http://www.sbctc.edu/about/board/meetings.aspx
# # #
About the Washington State Board for Community and Technical Colleges:
The State Board for Community and Technical Colleges is led by a Governor-appointed board and provides leadership, advocacy, and coordination for Washington's system of 34 public community and technical colleges. Each year, nearly 500,000 students train for the workforce, prepare to transfer to a university, gain basic math and English skills, or pursue continuing education. Visit our website at SBCTC.edu.
TOP