Yim elected to national board of community college trustees
10/16/2012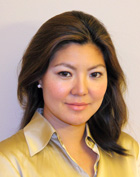 Edmonds College Trustee Emily Yim
Edmonds College Trustee Emily Yim was elected to serve as the Pacific region director on the national board of the Association of Community College Trustees (ACCT), the nonprofit educational organization of governing boards, representing more than 6,500 trustees of community colleges in the United States.
ACCT strengthens the capacity of community colleges to realize of their missions through effective board leadership.
Yim was appointed a trustee of Edmonds College in 2007. She is the executive director of the Washington Alliance for Better Schools, a collaboration of 10 school districts and the University of Washington, whose mission is to leverage resources, talent and intellectual capital to help over a quarter million students graduate career and college ready.
She is also a member of the Washington Alliance for Geographic Literacy.
She's a former department head of the City of Lynnwood, where she served as founding director of the Department of Neighborhoods and Community Affairs. Previously, she worked as vice president for Community and External Affairs at Washington Mutual, helping to oversee and invest a $29 million annual philanthropic budget.
She is a former board member of the International District Housing Alliance in Seattle, United Way of Snohomish County, and the Community Services Advisory Council for Snohomish County.
She earned her Bachelor of Arts in International Studies and Political Science from the University of Washington.
Find out more
TOP