Martin Luther King Jr. celebration Jan. 17 with Angela Davis
12/28/2012
Angela Davis, an activist for social justice, will be the featured speaker Thurs., Jan 17 at the annual Martin Luther King Jr. Celebration in Lynnwood.
Davis speaks at Edmonds College 12:30 p.m., Thurs., Jan 17 in the Black Box Theatre, 20000 68th Ave. W, Lynnwood. She speaks to the community 6:30 p.m. that evening at the Lynnwood Convention Center, 3711 196th Street Southwest, Lynnwood.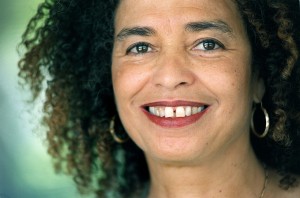 Author, activist, and scholar Angela Davis is the featured speaker at Lynnwood's Martin Luther King Jr. Celebration.
Lynnwood Mayor Don Gough will welcome the community to the evening event along with Edmonds School District Superintendent Nick Brossoit and Edmonds College President Dr. Jean Hernandez.
Both events are free and open to the public. ASL and Spanish translation is available. For other accommodations, call 425.670.5023 or email jmoore@ci.lynnwood.wa.us.
Through her activism and scholarship over the last decades, Davis has been deeply involved in our nation's quest for social justice. Her work as an educator both at the university level and in the larger public sphere has always emphasized the importance of building communities of struggle for economic, racial, and gender justice.
Davis has lectured throughout the United States as well as in Europe, Africa, Asia, Australia, and South America.
In recent years, a persistent theme of her work has been the range of social problems associated with incarceration and the generalized criminalization of those communities that are most affected by poverty and racial discrimination. She is the author of "Women, Race, and Class" (1980) and "Are Prisons Obsolete?" (2003).
For several years, the City of Lynnwood, Edmonds College, and Edmonds School District have worked collaboratively to sponsor the Martin Luther King Jr. Celebration to bring Lynnwood a positive celebration that encourages mutual understanding and respect for our growing and changing community.
This year's sponsors include the City of Lynnwood, Edmonds College, Edmonds School District, Central Washington University, Friends of the Library, Sno-Isle Libraries, YWCA, the Journal, Hampton Inn and Suites, NAACP of Snohomish County, and the Community Coalition of Color.
Find out more
TOP