Edmonds CC students resolve real-life scenarios in Ethics Challenge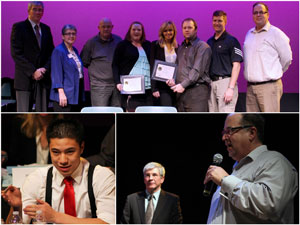 11/26/13
Thirty Edmonds Community College students from various academic programs recently competed in an Ethics Challenge sponsored by the college's Business Management program and Workforce Development and Training, in partnership with the Boeing Co.
"This was a great experience for our students to tackle real-life case scenarios going on in the business world now," said Edmonds CC President Jean Hernandez. "I want to thank Boeing for its great partnership in this event."

In the competition at the Black Box Theatre on campus, teams of students discussed ethical strategies through three rounds of live scenarios. Each team — using teamwork, communication, and critical thinking skills — was given seven minutes to discuss its given scenario and three minutes to present solutions.

Both Edmonds CC and Boeing supplied the 10 judges.

"Business ethics are essential for all of us who do business," said David Brock, Boeing executive focal liaison for Edmonds CC. "The partnership between Edmonds Community College and the Boeing Co. is another outreach where we can study the struggles that business people have day in and day out and come up with real solutions that students can take to the workplace and be better ethical employees."

The winning team consisted of Abby Kiplinger from Accounting, Maria Smith from Business Information Technology, Bill Cortis and Jude Searles from Business Management, and Ken Foss from Energy Management. Each student received a $100 gift card to Barnes & Noble from Boeing.

Other students who participated — all who had ethics lessons this fall quarter — were:
Accounting: Joellyn Clark, Sanaz Fakhim, Anna Merova, Kanaiaupuni Piilani.
Business Information Technology: Teresa Espejo, Michael Marzocchi, Lori Sundahl-Kinman, Bernadette Wogan.
Business Management: Steven Beck, Brenda Davis, Brad Mendenhall (also Energy Management), Chuck Noyes, Pam Westphal.
Construction Management: George Barlet, Del Bennett, Kyle Rapp, Jim Rorabaugh.
Energy Management: Josh Estes, Richard Hebel, Dwight Pruitt.
All participants have been invited to tour Boeing in Everett on Dec. 6.
Find out more
TOP