Edmonds College announces a variety of spring diversity events
04/09/2013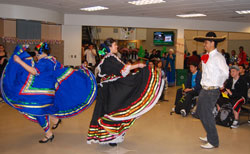 Spring diversity events at Edmonds CC kick off April 17 with the Latin-American Festival.
The Diversity Student Center at Edmonds College has announced the schedule for its spring diversity events, which begin Wed., April 17, and continue through Thurs., May 9. All events are free and open to the public and will be held on campus, 20000 68th Ave. W.
Here's the schedule:
Latin-American Festival
11 a.m.-1 -p.m., Wed., April 17 | Courtyard/Brier Hall
Informative cultural celebration with free authentic Mexican food, live entertainment, educational displays, games, and prizes.
"Same-Sex Marriage and the U.S. Supreme Court"
12:30-1:30 p.m., Wed., May 1 | Black Box Theatre
Edmonds CC Paralegal instructor Scott Haddock will lead a discussion on the history of same-sex marriage in the United States and two Supreme Court cases that could change everything. Co-sponsored by Love Happens, the college's LBGTQA (Lesbian, Gay, Bisexual, Transgender, Queer/Questioning, and Ally) club.
28th Annual POWWOW
May 3-5 | Seaview Gym
The event brings together students, families, and communities to celebrate American Indian singing, drumming, dancing, and arts and crafts. Dance and drum ceremonies start at 7 p.m., Friday; 1 and 7 p.m., Saturday; and 1 p.m., Sunday. During intermissions from 5-7 p.m. Saturday, there will be Native storytelling.
"Crossing Mountains: A Journey from Undocumented Immigrant to Award-Winning Author"
11:30 a.m-12:30 p.m., Tues., May 7 | Black Box Theatre
Reyna Grande, author of "The Distance Between Us" and "Dancing with Butterflies," speaks about her life as an undocumented citizen.
"The TRUTH about Undocumented Students"11:30 a.m-12:30 p.m., Thurs., May 9 | Brier Hall 231A panel of undocumented college students describe their fears, barriers, and successes.
Find out more
TOP