Edmonds CC names deans for Business and Natural Sciences and Math divisions
04/25/2013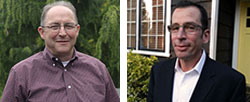 Andy Williams, left, and Elliot Stern have been named deans at Edmonds College.
Edmonds College Executive Vice President for Instruction Marty Cavalluzzi has announced the appointment of two new deans, Andy Williams and Elliot Stern.
Williams was named dean for the Business Division, a position he has served on an interim basis at Edmonds CC since July 2011. Prior to this, he was a full-time instructor in the Business Division for more than 20 years. Before working in higher education, Williams worked for 12 years in the private sector as a bank administrator for Security Pacific National Bank/Rainier National Bank.
He received his undergraduate degree in History from Stanford University, and has an MBA with a concentration in Accounting and Finance from UCLA. He also attended the Pacific Coast Banking School at the University of Washington, where he developed and published his thesis, "The Future of Small Business Banking in a Deregulated Financial Environment."
Stern, the new dean of the Natural Sciences and Mathematics Division, is currently interim dean for Health Science and Public Safety at Everett Community College. Prior to that, he taught Biology at Everett CC. He has also been adjunct faculty at Shoreline and Highline community colleges. He is a Doctor of Osteopathy — a degree he earned at Michigan State University College of Osteopathic Medicine — and has a Juris Doctor from the University of Michigan School of Law.
Stern starts his new job at Edmonds CC on July 1.
Find out more
TOP