Celebration of Food Festival needs volunteers for May 19 event
04/29/2013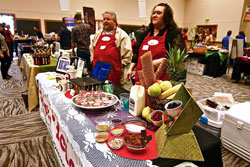 The festival is a free, family event where participants can taste, explore, and experience real food 11 a.m.-4 p.m. Sunday, May 19, at the Lynnwood Convention Center, 711 196th St. SW.
Volunteers are needed for the set-up team, tear-down team, and to help with activities during the festival. Examples include vendor assistance, signage, hospitality, greeters, counters, information table, and clean up. Volunteers must be 18 years or older. (Younger volunteers are welcome if accompanied by a parent.)
Most shifts are four hours. To volunteer, or for more information, email festival coordinator Chris Hudyma at chudyma@edmonds.edu.
Food Revolution Snohomish County aims to encourage growing, cooking, preserving, and eating "real" food, and is responsible for bringing this innovative community event to Lynnwood.
"This event brings together people who are passionate about delicious, local, wholesome food," said Hudyma.
The festival is sponsored by Central Market, City of Lynnwood, Edmonds College and the college's Green Campus Fund, Grow Northwest, PCC Natural Markets, Swedish Edmonds, Verdant Health Commission, Whole Foods Markets, and the Cascade Harvest Coalition.
There will be free samples, demos, and displays, as well as products for purchase.
Seventy vendors, with products ranging from herbs to vegetables and from cheese to chocolate, are confirmed. They include Taylor Shellfish, Theo Chocolate, Volio Olive Oil, Snoqualmie Ice Cream, Blue Stilly Coffee, Golden Glen Creamery, and Cats Paws Bees.
Farms from throughout Snohomish County will be represented, including Garden Treasures Organic Farm of Arlington, Klesick Family Farm of Stanwood, Willie Green's Organic Farm of Monroe, Mother Nature's Organics of Lake Stevens, and Biringer Farms of Arlington. Also represented will be farmers markets from Everett, Mukilteo, and Snohomish.
There will also be displays and information offered by farm and garden professionals, including WSU Snohomish County Extension and Seattle Tilth, to show the benefits of growing your own food. Resources will be available to help both children and adults learn about growing, cooking, and preserving food.
TOP