Edmonds CC Arab Fest: Language, culture, and art on display
05/06/2013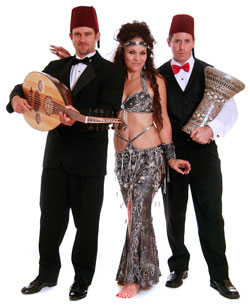 Belly dancer Delilah with two members of the group House of Tarab. Both will be performing May 14 at the Edmonds CC Arab Fest.
Are you interested in learning more about Arab culture, including language, art, music, and history? Edmonds College's Arabic Club will be hosting an Arab Fest 10 a.m. to 3 p.m. Tues., May 14, in the lobby of Brier Hall on campus, 20000 68th Ave. W. It's free and open to the public.
There will be a number of items for sale, such as Middle Eastern-themed books and T-shirts with Arabic calligraphy spelling out "I am an American" and "I am an Arab." All funds raised go to support Arabic language, cultural, and educational activities for Edmonds CC students, employees and community members.
Sample vegetarian items and desserts catered by Seattle-based Falafel King will be available, and there will be a Middle Eastern grocery demonstration by Bylbos Mini Market in Lynnwood.
The event will include:
Edmonds CC Arabic Club selling spices;
Farida Shahmahmood, henna artist and owner of Seattle-Lynnwood Henna Tattoo Designs. Shahmahmood attended Edmonds CC and plans to resume classes this fall;
Joe Staiano, founder of www.meaningfultrip.com, sharing experiences of his recent trip to Palestine;
Arabic language arts and crafts by A Crafty Arab;
Handmade cross-stich embroidery by Piece of Peace, created by Palestinian women;
Virtual tour guides and travel information by Caravan Serai Tours
Delilah, a belly dancer;
Folkloric singer and guitarist Ghassan AlQaisy;
Shahrazad Ensemble; and
Members of the House of Tarab Arabic music ensemble.
"What we aim to achieve is give a taste of what Arab culture is," said Reham Elkhayat, an Edmonds resident who teaches Arabic at Edmonds CC. Basic Arabic Grammar will be offered during the fall quarter, Sept. 23-Dec. 12. "We will have music and songs playing at all times." The Arabic Club will also have a table at the college's annual Open House 6-8 p.m. on May 14.
Arabic is the most commonly spoken language throughout the Middle East and is widely spoken throughout Europe, Africa, Asia, and Indonesia. Arabic language skills can lead to job opportunities in teaching and translating. They can be an asset in jobs abroad in the military, government, and business, and in volunteer opportunities such as the Peace Corps.
Find out more
TOP