Sustainability: Edmonds CC the highest rated community college in the state
06/04/2013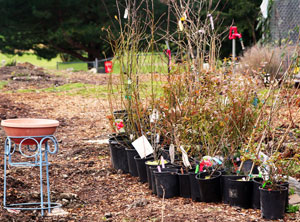 The community garden at Edmonds CC is open to all.
In recognition of its sustainability achievements, Edmonds College was awarded a STARS Silver rating from the Association for the Advancement of Sustainability in Higher Education (AASHE).
STARS, the Sustainability Tracking, Assessment & Rating System, is a new program that measures and encourages sustainability in all aspects of higher education.
"Achieving a silver rating in the STARS program is a major accomplishment for the college," said Alison Pugh, Sustainability Researcher at Edmonds CC. "We are currently the highest rated community college in Washington state. We're particularly proud of our efforts to infuse sustainability into curriculum — education and research was our highest scoring category."
Among Edmonds CC's innovative programs are Energy Management, Restoration Horticulture, Event Planning, Culinary Arts, Hospitality and Tourism, Occupational Safety and Health, Construction Industry Training, and our LEAF school (learn and serve anthropology field school).
Edmonds CC first made sustainability an institutional priority in 2006, when it was incorporated into its philosophy statement. At that point, the Sustainability Initiative was born, and a Sustainability Council was convened to rally and promote the efforts of the initiative. In 2008, former President Jack Oharah signed the American College and University Presidents' Climate Commitment, putting the college on the path of becoming carbon neutral. Recently, the college underwent a process of revising its mission — sustainability is now a stated college value and is incorporated in a newly developed strategic plan.
In 2007, Edmonds CC made its first attempt at measuring campus sustainability. Additional assessments occurred when the college conducted its first carbon footprint in 2008 (and every year since). STARS, however, offers a new opportunity to participate in a comprehensive and robust reporting tool geared specifically toward higher education, allowing us to compare various aspects of our performance to that of other institutions.
AASHE's STARS program, the only one of its kind, involves publicly reporting comprehensive information related to a college or university's sustainability performance. Participants report achievements in three overall areas: education and research; operations; and planning, administration, and engagement.
"Edmonds College has demonstrated a substantial commitment to sustainability by achieving a STARS Silver Rating," said AASHE Executive Director Paul Rowland, "and is to be congratulated for its efforts."
Unlike other rating or ranking systems, this program is open to all institutions of higher education in the U.S. and Canada, and the criteria that determine a STARS Rating are transparent and accessible to anyone. Because STARS is a program based on credits earned, it allows for both internal comparisons as well as comparisons with similar institutions.
"We are very proud to have achieved a STARS Rating for our sustainability accomplishments," said Pugh. "We look forward to watching our sustainability efforts grow and improve through the STARS program."
Find out more
TOP