High school students earn certificates through Edmonds CC program
06/20/2013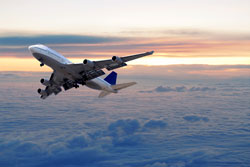 Graduating High school students can
earn certificates at the WATR Center.
LYNNWOOD, Wash. — Eleven graduating Sno-Isle Tech Skills Center students interested in aerospace and manufacturing careers recently earned a college Manufacturing Core Certificate through a partnership with Edmonds College's Tech Prep Program and the Washington Aerospace Training and Research (WATR) Center.
Scholarships provided by the WATR Center gave Sno-Isle students the opportunity to take the four-week online Manufacturing Core Certificate this spring. The students now have a jump start on two aerospace industry career programs offered by Edmonds CC.
The first program allows students interested in entering full-time aerospace and manufacturing employment after high school graduation to earn another, specialized WATR Center certificate in eight weeks in either Aerospace Manufacturing Assembly Mechanic, Electrical Assembly Mechanic, or Manufacturing Tooling.
Each certificate is a combination of online coursework followed by hands-on labs at the WATR Center — which opened in 2010 at Paine Field in Everett and is operated by Edmonds CC in partnership with Aerospace Futures Alliance of Washington.
The second program allows students interested in a traditional college pathway to earn Edmonds CC's Materials Science Quality and Manufacturing Certificate, a three-quarter program that also leads to entry level aerospace manufacturing jobs and can be applied to a two-year transfer degree.
Sno-Isle students who earned the WATR Center Manufacturing Core Certificate were also awarded Materials Science Technology credit through the Edmonds CC Tech Prep program. The program gives high school students the opportunity to start a college technical career certificate or degree while in high school for no cost, allowing them to enter college already having earned college credit.
"These are great opportunities for students with technical skills to get additional training for good paying aerospace jobs and careers," said Karen Traversie, a project manager in Edmonds CC's Workforce Development and Training department who has overseen the Tech Prep program since 2000.
On Thursday, June 20, the Lynnwood Rotary will award three scholarships of $2,333 each to three students planning to earn a second WATR Center certificate. They are Kelvin Amenu-Tekaa, Kyle M. Allan, and Winston Wilkes. A ceremony will be held at noon in Woodway Hall 202 on the Edmonds CC campus, 20000 68th Ave. W, Lynnwood.
Find out more
TOP