LEAF School honored for work at Gold Park
06/21/2013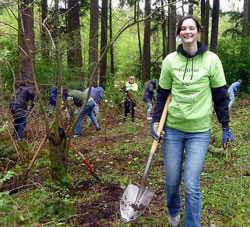 Cleaning up invasive species at Gold Park in Lynnwood on Earth Day 2013.
Kudos to the Edmonds CC LEAF School, which recently helped spruce up Gold Park in Lynnwood.
The city of Lynnwood on June 10 recognized the Edmonds College Learn and Serve Environmental Anthropology Field (LEAF) School and the Snohomish Tribe of Indians for their efforts in the environmental and cultural restoration of Lynnwood's Gold Park.
Parks, Recreation and Cultural Arts Director Lynn Sordel presented certificates of appreciation to Thomas Murphy, EdCC anthropology professor, and Sue Hall, representing the Snohomish Tribe of Indians.
In 2010, the LEAF School students began with removal of invasive plant species in the 6.44-acre park and replanted more than 160 native plant species. With the Snohomish Tribe, they designed and installed an ethnobotanical garden, Stolja Ali, displaying native plants and the history of their uses among Coast Salish tribes.
Find out more
TOP