Edmonds CC dean competing for title of America's Strongest Woman
07/17/2013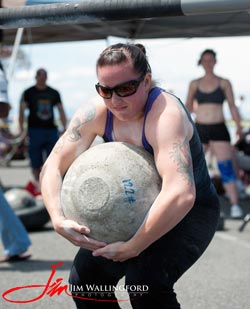 Kristyn Whisman, Edmonds College's Dean of Corrections Education at Monroe Correctional Complex, competed in June at Washington's Strongest Apple competition in Des Moines, WA.
LYNNWOOD, Wash. — Kristyn Whisman, Edmonds College Dean of Corrections Education at Monroe Correctional Complex, will compete for the title of America's Strongest Woman in October at the North American Strongman national championship. She's already won three times, in 2007, 2008, and 2011.
Whisman, 29, earned the right to compete at the finals Oct. 18-19 at Smitty's Bar & Grill in Denison, TX, after being named runner-up in June's fifth annual Washington's Strongest Apple competition in Des Moines, WA. Whisman competed in Des Moines 10 weeks after giving birth to a baby boy.
Whisman currently competes in the lightweight division (she's 5'2" and 140 pounds), but has previously competed in middleweight and heavyweight classes. "Sometimes I feel like making more of a challenge for myself," she said.
Whisman's challenge, and for those of the other competitors, won't be to just lift weights. Categories, instead, include axle clean and press for reps, yoke carry/sled drag medley, giant wheel barrow load and carry, car dead-lift, overhead press medley, frame carry, and atlas stone over bar for reps.
She first started lifting weights at 15, later joining the swim team at Whitman College in Walla Walla. One day in college, she watched "World's Strongest Man" on TV. "I thought it was quite possibly the coolest thing I'd ever seen," she said. "I also saw 'World's Strongest Woman,' which was very inspiring. So I pretty much decided that once I was done with college and swimming that I would find a way to participate in Strongman. So I did."
While earning her bachelor's at Whitman (major in sociology, minor in psychology), Whisman began her career path, volunteering at age 19 in the GED program at Walla Walla's Washington State Penitentiary. She's been working in corrections education ever since. While working as a GED instructor at the prison, she earned her master's in education at the University of Washington, Bothell.
Whisman again became a GED instructor, this time at the Monroe prison, and became acting dean in April 2011. She was hired as permanent dean in July 2012. In August, Whisman will bring some of her lifting implements to the Monroe prison for a diversity fair. Prisoners will be able to give them a try.
Whisman said staff and most prisoners are aware of Whisman's physical strengths. That means no one gets in her way, right?
"Correct," she said. "Most of the time."
TOP