Edmonds CC Foundation hosts event to recognize significant contributors in the community
04/18/14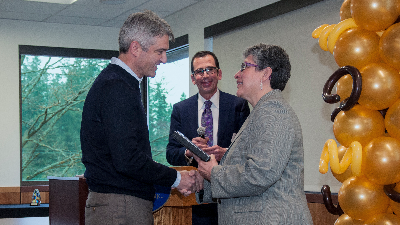 Premera Blue Cross President Jeff Roe (left) accepts award from Edmonds CC President Jean Hernandez (right), Edmonds CC Dean of STEM Elliot Stern (middle) moderated the event
The Edmonds College Foundation hosted Fanfare — an event to celebrate achievements and distinctive contributions to the college on April 17 on campus.
"It's important to honor businesses, organizations, and alumni that make service to the community a priority," said Edmonds CC President Jean Hernandez.
The college's highest awards — Mission, Vision, Distinguished Alumni, and Excellence in Education — were presented to foundation donors, a distinguished alumnus, and a college employee.
The Mission Award — aimed at recognizing a business or organization that has dedicated financial, volunteer, and other support to the college — was given to Arista Wine Cellars of Edmonds. Owners Ruth and David Arista have dedicated financial and volunteer support to the college for many years. As ambassadors for the college, the Aristas have advocated for the value of higher education and the needs of students.
Premera Blue Cross was honored with the Vision Award. Premera has provided strong financial support to the Edmonds CC Foundation for more than 19 years, including long-term event sponsorships and volunteer leadership on both the college's Board of Trustees and the foundation's Board of Directors since 2004. The company has also contributed volunteers to read and score scholarship applications and sought out opportunities to hire Edmonds CC graduates.
Tom Lampkin, a former major league baseball player and Edmonds CC alumnus, was recognized with the Distinguished Alumni Award. Beginning his college career at Edmonds CC, Lampkin went on to play with the Cleveland Indians, San Diego Padres, Milwaukee Brewers, San Francisco Giants, St. Louis Cardinals, and the Seattle Mariners. Lampkin resides in Vancouver, Wash., where he runs his own business and coaches at an area high school. He is also president of the Clark County Youth Sports Foundation.
Melissa Newell, an art instructor and co-chair of the Visual Arts Department at the college, was presented with the Excellence in Education Award — a prestigious recognition awarded annually by the college's Board of Trustees to an outstanding member of the staff or faculty. Newell, an instructor for more than 25 years at the college, initially launched and led the college's Arts, Culture, and Civic Engagement program; championed online education as well as promoted efforts in outcomes assessment, cultural diversity, and integrated learning; volunteers in the community for arts advocacy projects; and maintains her own studio practice.
Learn more about the Edmonds CC Foundation.
TOP