English instructor Holly Hughes to read from her newest book at Peninsula College Oct. 30
10/27/14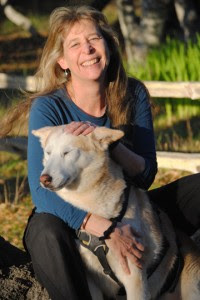 Edmonds College English instructor Holly Hughes and Fox. Photo credit: Isolde Pierce
Holly Hughes, Edmonds CC English instructor and poet, will read from her newest book, "Sailing by Ravens," at Peninsula College at 12:30 p.m. on Thurs., Oct. 30.
Hughes will be reading as part of Peninsula College's Studium Generale and Foothills Writers Series. It will be held in Peninsula College's Little Theater at 1502 E. Lauridsen Blvd.
Hughes has taught English at Edmonds CC since 1993. She is co-author with Brenda Miller of "The Pen and The Bell: Mindful Writing in a Busy World" (Skinner House Press, 2012), editor of the award-winning anthology, "Beyond Forgetting: Poetry and Prose about Alzheimer's Disease" (Kent State University Press, 2009) and author of the chapbook "Boxing the Compass" (Floating Bridge Press, 2007). Nominated for several Pushcart prizes, her poems and essays have appeared in many anthologies.
For more information about the reading, visit www.pencol.edu.
TOP