Edmonds College honored as a Champion of Sustainability by McKinstry and Seattle Seahawks
11/21/14
Edmonds College will be recognized as a Champion of Sustainability at the Seattle Seahawks game on Nov. 23 for demonstrating a commitment to sustainability by the Seattle Seahawks and McKinstry, a Seattle-based consulting, construction, energy, and facility services company.
According to McKinstry, Edmonds CC has demonstrated actions to upgrade buildings' infrastructure and reduce energy consumption.
"Through our partnership with Edmonds CC and the Washington Department of Enterprise Services, we have been impressed with the college's continued investment in energy conservation projects," said Stephanie Pitts, Brand Manager for McKinstry. "The college is not only reducing its carbon emissions, but it is providing safer, more comfortable learning environments for students and staff."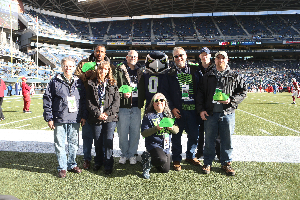 Kevin McKay and Stephanie Teachman accept Champion of Sustainability award at the Nov. 23 Seattle Seahawks game.

Kevin McKay, Vice President for Finance and Operations at Edmonds CC, will receive the award prior to kick-off this Sunday on behalf of the college. All recipients are hosted by McKinstry at each Seahawks home game this season and presented with an award.
"We are honored to receive this recognition, " said Dr. Jean Hernandez, Edmonds CC President. "We are committed to infuse environmentally, economically, and socially sustainable practices throughout all aspects of the college's operations."
McKinstry has partnered with the Seattle Seahawks to recognize local companies and colleges who have committed to doing their part to reduce the global impact of their facilities. Some examples of this include innovating sustainable practices, driving out waste, influencing positive changes in behavior, and acting as community stewards.
The recognition program is a part of the Defend Your Turf campaign initiated by the Seahawks and Sounders FC in 2012. The campaign grew out of an energy efficiency upgrade and solar array installation that McKinstry performed at CenturyLink Field and Event Center in 2011. It reinforces the teams' commitment to operating a sustainable community asset that can serve as a model for sports stadiums across the country.
Learn more about the college's commitment to sustainability at www.edmonds.edu/sustain. Find out more about McKinstry's Champions of Sustainability program and the Defend Your Turf campaign.
TOP