College leader elected to national executive board
12/1/14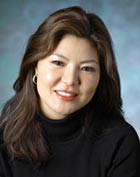 Emily Yim, Edmonds CC Board of Trustees Chair
Edmonds College Board of Trustee (BOT) Chair Emily Yim was elected to the Association of Community College Trustees (ACCT) Executive Committee.
The election was held at the ACCT's 45th annual Leadership Congress in Chicago, Ill. on Oct. 24.
"I am proud to represent Edmonds CC at a national level," said Yim, who has served on the Edmonds CC BOT since 2007. "It is a great opportunity to provide visibility for our college, our region, and our state, and to acknowledge all of the great work we're doing."
Yim — who has served as an ACCT board member for two years — will serve in the Secretary-Treasurer position on the Executive Committee for a one-year term. Her duties will include chairing the audit and the budget and finance committees.
The ACCT Board of Directors comprises 26 total members — including a five-person Executive Committee — 15 are elected regionally, nine are elected at large, and two are appointed.
As the first Asian-American elected to the Executive Committee, Yim will not only be representing Edmonds CC on a national level, she will also be representing 16 of the Pacific regional states.
The Washington, D.C.-based ACCT aims to educate community and technical college leaders through annual conferences, seminars, and face-to-face meetings focused on advocacy and the development of leaders.
Aside from her duties as the Chair of the Board of Trustees at Edmonds CC and on the ACCT Board, Yim is the Executive Director of the Washington Alliance for Better Schools — a collaboration of 11 school districts and the University of Washington — whose mission is to leverage resources, talent, and intellectual capital to help more than a quarter million students graduate career and college ready.
"By serving on the executive committee, I hope to provide a broader national perspective and gain access to some of the best practices around the country," said Yim. "The opportunity to work with other community and technical college leaders on initiatives and strategies will help me better serve our community and our students."
TOP